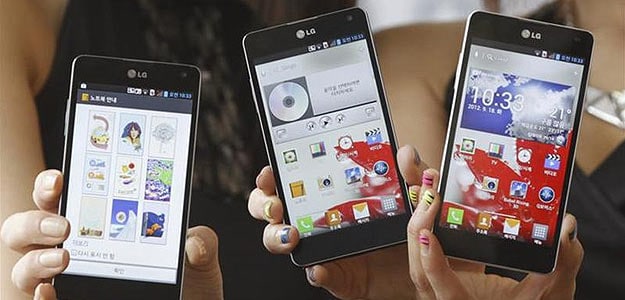 Seoul:
LG Electronics Inc has become the world's No. 3 smartphone maker behind Apple Inc and Samsung Electronics Co Ltd for the first time in the $223 billion market, industry data showed, as solid sales of high-end models helped it win customers.
LG saw its smartphone market share rise to 3.2 per cent in the fourth quarter by sales, propelling it to the third spot for the first time, while rival HTC Corp slid to fourth, data from research firm Strategy Analytics showed.
Samsung and Apple took a combined 71.4 per cent of the market and the rest is split among firms such as LG, HTC, Sony Corp and BlackBerry, the data showed.
Reflecting growing optimism that LG's smartphone business will recover, LG Electronics shares have gained 54 per cent from their 2012 low hit in late July. The shares ended up nearly 2 per cent on Thursday at 86,600 won, the highest in more than a year.
LG is betting high-end models that boast powerful hardware and software features and a fast 4G connection will help it rebuild its tarnished handset brand quality and increase its market share of the lower-end segment as well.
The South Korean company announced on Thursday software upgrades for its flagship Optimus G Pro model that will allow consumers access to features that Samsung touted as major selling points of its upcoming Galaxy S4. The move is its latest attempt to boost appeal to upmarket consumers before rival products hit the market.
The features LG is adding include motion detecting technology that stops and starts videos depending on whether someone is looking at the screen and snapping pictures.
The 5-inch Optimus Pro debuted in South Korea in late February and in Japan this month. It is LG's fastest-selling smartphone with sales hitting 500,000 in the first 40 days of the launch, LG said.
In terms of unit shipments, LG remains the seventh-largest with a 4 per cent share, following Huawei, Lenovo Group Ltd, Sony and ZTE Corp, which have market share of between 4 and 5 per cent.
Analysts expect LG's smartphone shipments will rise by 16 per cent to a record 10 million after 8.6 million phones sold in the fourth quarter, a strong performance as the overall market is seen contracting by 6 per cent from the strong year-end holiday quarter.
HTC reported on Monday a record-low quarterly profit that missed analysts' estimates after it delayed the full launch of its 2013 flagship smartphone model, which will now debut against Samsung's newest Galaxy.
LG reports its first-quarter results on April 24.