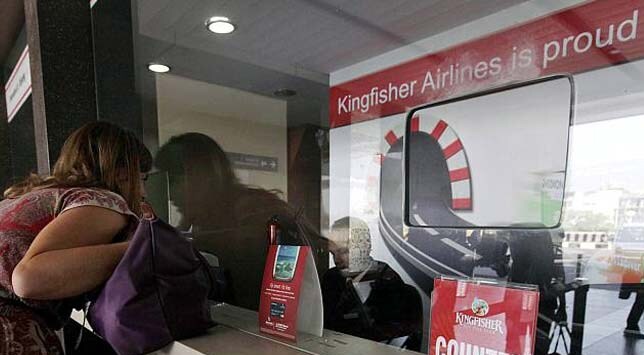 Highlights
The airline's consortium of 16 lenders, which includes SBI, have been studying a debt-restructuring proposal shared last week.
Mumbai:
While the cash-strapped Kingfisher Airlines continues to cancel flights everyday - 20 were cancelled Wednesday, lending banks have made clear that they have not agreed to extend further loans to the carrier, Reuters reports. This after there were reports that the largest lender, State Bank of India (SBI) had agreed to provide Vijay Mallya's debt-crippled airline a bailout loan package.


The government has already said repeatedly that it will not bailout Kingfisher Airlines, which has cancelled many flights all this week leaving passengers in the lurch. Here are 10 developments in this story:

1) A State Bank of India official late on Wednesday denied that the bank has given any additional loan to Kingfisher Airlines during the current crisis. "We have not given any fresh loans to Kingfisher," R. Venkatachalam, a Deputy Managing Director at the bank who is responsible for managing the Kingfisher loan account told Reuters. "All media reports are baseless and untrue." The bank is not considering giving any fresh loans to Kingfisher as of now, he added. Reuters earlier in the day quoted banking sources to say that the lenders to Kingfisher Airlines have not agreed to extend further loans to it.


2) The airline's consortium of 16 lenders, which includes SBI, have been studying a debt-restructuring proposal shared last week.


3) Civil Aviation Minister Ajit Singh said this morning that "it's good if banks give loans to the airline." Mr Singh was asked about whether the government-owned State Bank of India was providing an emergency exit for Kingfisher. Mr Singh did not confirm or deny those reports. He stressed that he does not want the airline to close down, but passenger safety and convenience are the main priority. "Banks have to decide on loans based on the business plan of the company. If they are satisfied with the business plan, they should proceed with loans," he said.


4) Meanwhile, Air India has refused to accommodate on credit any Kingfisher passengers whose flights have been cancelled. This means that Air India will not accept transfer vouchers issued by Kingfisher.


5) The Income Tax department on Wednesday rejected a Kingfisher plea to unfreeze its bank accounts as well as a tax dues re-payment plan. Kingfisher has attributed this week's crisis to the Income Tax department freezing its bank accounts last week for unpaid dues.
6) Kingfisher has followed orders issued by the DGCA yesterday, and submitted a revised schedule based on its current flying capacity. Bharat Bhushan, who heads the DGCA which is the regulator for the aviation sector, had asked for this yesterday. 28 of Kingfisher's 64 planes are currently in use.


7) Mr Bhushan has also ordered a special audit to ensure that Kingfisher's financial preoccupations are not impeding upon passenger safety. He had said yesterday that though nothing suggests this, he would like a safety report to prove the airline is following all guidelines.


8) Mr Bhushan had summoned the Kingfisher CEO after a weekend that saw hundreds of passengers stranded because Kingfisher cancelled flights without any notice or alert to its passengers. The airline also failed to inform the DGCA of its revised schedule, which is a basic requirement.


9) Kingfisher shares shed over 6 per cent after lenders said that there was no decision taken by lenders consortium to restructuring the debt. The company's share price fell 36 per cent over the past one year.


10) Kingfisher's current debt is close to 1.3 billion dollars or Rs. 7,057.08 crore. Its revenue has been in decline since the end of last year and now, staff is not being paid and tax bills remain outstanding. Reuters quoted a tax official as saying that the airline's tax arrears for financial 2011/12 was around 400 million rupees.