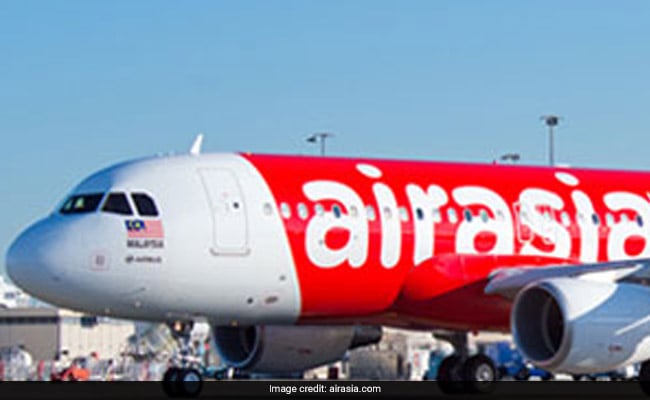 Highlights
Offer requires advance bookings, according to AirAsia
Bookings under promotional offer open till December 31, 2017
AirAsia offers tickets from Rs 1,399 on flights to Bengaluru from Goa
AirAsia India
is offering flight tickets starting at an all-inclusive Rs 1,399 on select flights. According to the airline's website - airasia.com, AirAsia is offering discounted tickets on flights to destinations such as Bengaluru, Jaipur, Kochi, Kolkata, Ranchi and Delhi, among others, under a limited-period promotional scheme. The offer requires flyers to make advance bookings, according to the AirAsia website. Bookings under the offer can be made till December 31, 2017, AirAsia India - which competes with the likes of Air India, IndiGo, Jet Airways and SpiceJet - noted. The AirAsia offer comes amid
high competition
in the domestic civil aviation market, days before the New Year 2018.
AirAsia is offering all-inclusive tickets starting at Rs 1,399 on flights to Bengaluru from Kochi, Goa and Hyderabad, according to its website. Among other routes, AirAsia was offering flight tickets from Rs 1,499 and Rs 1,599 on the Kolkata-Bagdogra and Bhubaneswar-Kolkata routes, respectively.
Here are five things to know about the AirAsia India flight ticket offer:
1. The promotional offer is applicable on travel till June 30, 2018, according to the AirAsia website.
2. AirAsia said the offer is available on online bookings at www.airasia.com.
3. Without divulging the total number of seats offered under the discount scheme, AirAsia said: "Seats are limited and may not be available on all flights... Valid for new purchases only."
4. Fares: AirAsia said the fare includes airport taxes (except for selected airports where airport tax is collected at the point of departure). All fares are quoted for single journey (one-way) only, the airline noted.
5. "A non-refundable processing fee is applicable for payments via credit, debit or charge card... All taxes must be paid at the time of purchase unless otherwise stated... No refunds are permitted after payment has been made...Full payment shall be made upon booking," AirAsia mentioned, among other terms and conditions.
A search on the AirAsia bookings portal on Wednesday showed tickets for flights from Goa to Bengaluru on January 10 were available for booking at Rs 1,398.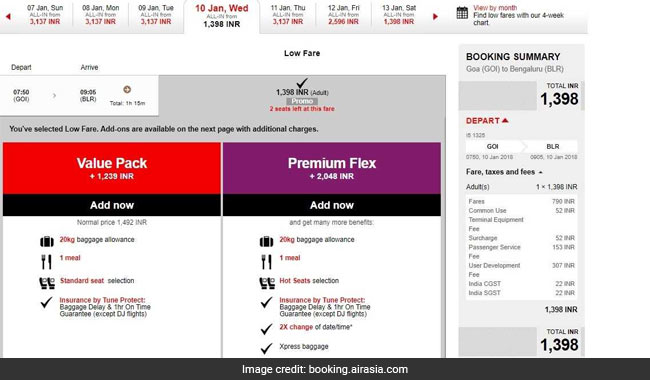 (The flight tickets of Rs 1,398 included fares and GST of Rs 834, according to the AirAsia website)