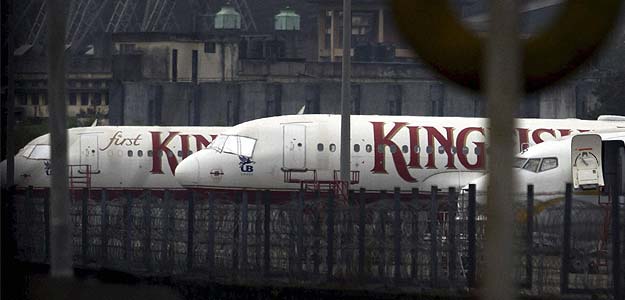 Vijay Mallya-promoted Kingfisher Airlines shares were grounded earlier this week, more than two years after the carrier was met the same fate. The entire promoter shareholding (8.54 per cent) of Kingfisher Airlines has also been frozen. If you did not sell your shares in the company, hoping for a revival, read on.
1) Trading in Kingfisher Airlines was suspended on December 1 for violation of listing rules of the stock exchanges. According to rules, if a company fails to report its earnings for two consecutive quarters, its shares have to be suspended from trading. Kingfisher Airlines has not reported its quarterly earnings since the December quarter of FY14.
2) Investors, who have not sold their shares so far, can still do so. As per exchange rules, trading in non-compliant companies would be allowed on a trade-for-trade basis, 15 days after the suspension.
3) Trade-for-trade is a type of settlement system, where transactions can be done only for delivery. Under the trade-for-trade segment, each transaction is considered individually and the normal rolling settlement system does not apply.
4) Trade-for-trade settlement prevents brokers from circular trading, a fraudulent scheme used to increase share value and volumes to attract unsuspecting investors. Circular trading does not led to a real change in the ownership of the stock.
5) Circular trading is not possible in trade-for-trade settlement as brokers have to pay for each transaction (buy or sell). So, only genuine investors will be able to participate in the trade.
6) Shares under trade-for-trade are traded on the first trading day of every week for six months. The first trading window for Kingfisher Airlines under trade-for-trade window will be on December 16.
7) Prior to suspension, Kingfisher Airlines was among the most traded shares on the exchanges. In spite of its operations being stalled since 2012, the average daily trading volume in its shares on NSE in last one year to November 28 was more than 25 lakh.
8) The reasons for the high trading volume in Kingfisher Airlines are a) It has a free-float of 95 per cent, which means nearly all issued shares are traded in the market; b) As of September 30, 2014, retail and high net worth investors held 58.5 per cent shares in the company and institutional investors (both domestic and foreign) held 9.92 per cent shares.
9) Kingfisher Airlines is not the only stock to be suspended. Shares of UB Engineering and Varun Industries were also suspended for violation of listing norms. Trading in such shares can resume again if the company starts reporting quarterly earnings and pays a fine to the exchanges.
10) The airline never turned a profit since its launch in 2005, as a result its accumulated losses wiped out its entire capital. The company had accumulated losses of Rs 16,023.47 crore as of March 31, 2013 and its networth at that date was a negative Rs 12,919.82 crore (per share negative networth of Rs 159.7).