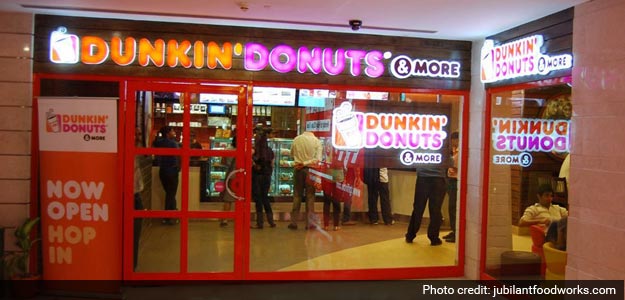 Jubilant FoodWorks shares slumped 10 per cent on Tuesday, after the food service company reported a 31 per cent fall in June quarter net profit. Jubilant FoodWorks runs the Domino's and Dunkin' Donuts chain of restaurants in India.
Jubilant FoodWorks' Q1 sales growth remained subdued at Rs 609 crore versus Rs 570 crore year-on-year, while its net profit declined to Rs 19 crore versus Rs 27.6 crore.
"A constrained consumption environment had an effect on the overall performance in the first quarter of FY17," the company said in a statement.
Jubilant FoodWorks' profitability was hit by a 3.2 per cent year-on-year fall in same stores sale growth (SSG). This was the first drop in Jubilant FoodWorks' SSG in the last six quarters, analysts said.
"Same store sales declined due to economic conditions and calendarization impact like Ramadan falling in Q1 this year. Revenue was also impacted by the delay in launch of Pizza Mania Extreme by a few weeks," said Ajay Kaul, CEO, Jubilant FoodWorks.
Higher employee costs and rising rentals associated with growing count of stores also weighed on the bottom line, they added.
Jubilant FoodWorks' has added 139 new Domino's Pizza outlets over the last four quarters, with the total number of stores rising to 1,049 at the end of June 30, 2016. Total number of employees as on 30 June 2016 stood at 27,662 as compared to 28,684 as on 30 June 2015, the company said.
Jubilant FoodWorks shares closed 9.7 per cent lower at Rs 1,067.90. The stock underperformed the broader Nifty that gained 1.5 per cent.