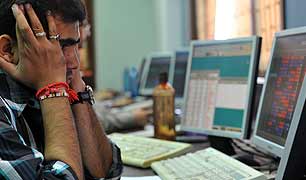 Highlights
If you missed our coverage, here are the top 10 stories of the day.
New Delhi:
Shares in the exclusive franchiser for Domino's Pizza and Dunkin Donuts in India, Jubilant Foodworks fell 7.1 per cent to Rs 1,145.55, after JPMorgan initiated coverage on the stock as "underweight" with a March 2013 target price of Rs 995.
JPMorgan called Jubilant a "high quality company and growth story," but expressed concerns about premium valuations, potentially tough macro-economic environment in FY13, and impending competitive pressures.
The brokerage says any "minor" lapse near-term, such as store openings and margins, "could significantly strain the valuation multiple."
Copyright @ Thomson Reuters 2012