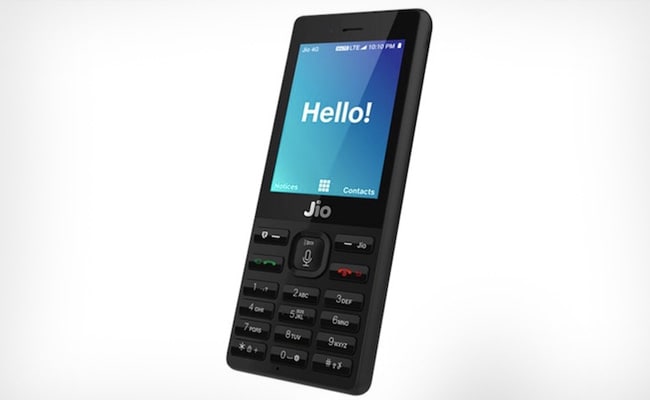 Close on the heels of Reliance Jio launching a Rs 1,500 4G-enabled feature phone, more telecom operators are planning to launch affordable 4G-enabled feature phones, say experts. Jio last month announced the launch of JioPhone, aimed at the 50 crore feature phone market in India. The JioPhone will spur more competition and push incumbent telecom operators to tie up with handset makers in order to tap the low-cost handset segment, say some experts. Bookings for JioPhone are expected to open later this month.
AK Prabhakar, head of research at IDBI Capital Market, had told NDTV earlier that JioPhone will help Jio penetrate deeper into Indian markets. Other telecom operators could also follow the JioPhone model and launch such low-cost handsets in association with handset manufacturers, he said. "That is very good for the market. The telecom companies can bring its (handset) costs down."
Anticipating a pickup in demand following Jio's foray into the affordable 4G feature space, more mobile phone companies are gearing up to launch their offerings by the end of the year, according to a top official of 4G chipset firm Spreadtrum. "We are in talks with four-five players for launching phones (on Spreadtrum chipset). We expect they will be launching in the fourth quarter," Spreadtrum Communications country head Neeraj Sharma told news agency Press Trust of India. Spreadtrum Communications is one of the suppliers of chipsets for the JioPhone.
With JioPhone, Jio will offer unlimited voice and data to its customers at a starting tariff of Rs 153 per month. Offered at an "effectively free" cost, the JioPhone will come at a one-time refundable security deposit of Rs. 1,500. This security deposit will be refundable on return of device after three years on return of the device.
Aditya Birla group firm Idea Cellular had last month said it was working with handset makers to launch affordable phones. It remains to be seen how the proposed JioPhone, which does not have features like a smartphone, serves those wanting to browse the internet, news agency Press Trust of India cited Idea Cellular managing director Himanshu Kapania as saying at analyst call last month. He said the phone will be slightly expensive but will offer customers the freedom of choice.
The JioPhone is widely expected to boost Jio's presence in the entry-level phone segment as well as the company's revenue market share and profitability in the long run.
Reliance Jio's latest offering - a low-cost 4G-enabled phone - should help reverse the recent decline in telecoms industry revenue, global ratings agency Fitch Ratings has said. Reliance Jio is likely to gain revenue market share "as the new handset allows it to attract first-time 4G users", Fitch added.