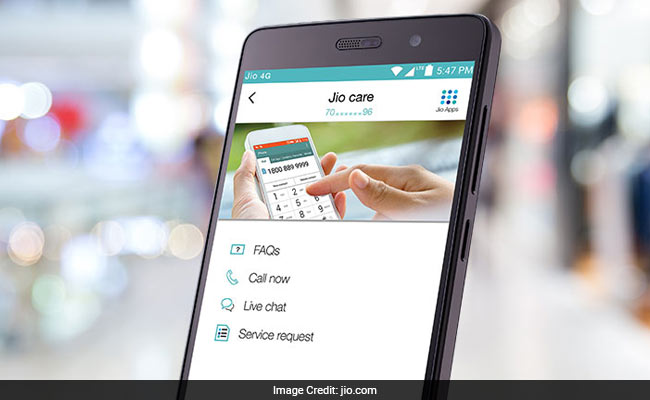 Highlights
At Rs 149, Jio customers get 2 GBs mobile data at 4G speed
Jio is also offering 56 GBs of 4G data for Rs. 30
At Rs 349, Jio users can get 4G speed data of 20 GBs
Reliance Jio, the telecom arm of conglomerate Reliance Industries, offers several recharge options to its prepaid customers. Jio's prepaid customers can pick from recharge coupons priced between Rs 19 and Rs 9,999. Of these, the Jio recharge coupons between Rs 149 and Rs 149 offer voice calling and mobile data benefits of different magnitudes with a validity of 28 days up to 84 days, according to its website - jio.com. Aggressive data pricing along with free voice calling by new entrant Reliance Jio - which offers telecom services under brand name Jio - has stirred up competition in the telecom services market with the incumbent players rapidly reviewing their offerings, say some analysts.

While voice calling is free on the Jio network, here's what you get under Jio's Rs 149, Rs 309, Rs 349 and Rs 399 recharge packs: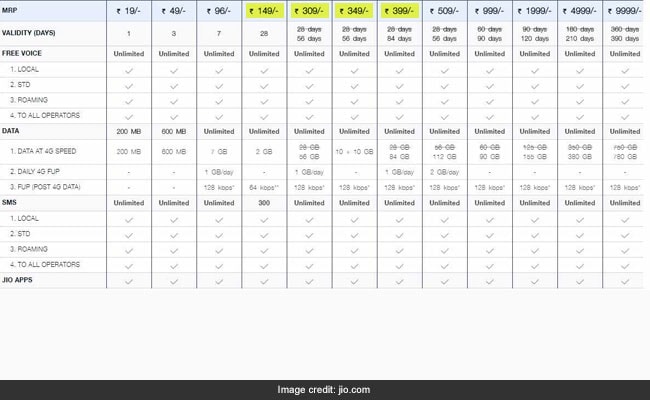 Jio Rs 149 recharge plan


Reliance Jio's recharge pack or STV (special tariff voucher) priced at Rs 149 includes 2 GBs or gigabytes of mobile data at 4G speed, according to its website. Valid for 28 days, the Rs 149 Jio recharge comes with unlimited data. After consumption of the 4G data of 2 GB, the speed is reduced to 64 kbps, the Jio website noted. The Rs 149 also includes 300 SMS (local, STD and roaming) to all operators, Jio added.
Jio Rs 309 recharge plan


Jio is offering 56 GBs of 4G data in a recharge pack of Rs 309 with a validity of 56 days. The data of 56 GBs can be used at a daily limit of 1 GB as per the telecom company's Fair Usage Policy (FUP), according to the Jio website. Jio prepaid customers exhausting the limit of 1 GB in a day will be able to use the mobile data at a speed of 128 kbps, Jio added. Jio's Rs 309 recharge pack includes unlimited local, STD and roaming SMS.
Jio Rs 349 recharge plan
Reliance Jio's recharge pack of Rs 349 includes 4G speed data of 20 GB data with a validity of 56 days. There is no daily limit on data consumption in Jio's Rs 349 plan. That means one can consume the entire 20 GBs data in one day.
Jio Rs 399 recharge plan


Jio's recharge pack priced at Rs 399 comes with 84 GBs of data over a validity of 84 days. 4G speed data under the Rs 399 pack comes with a daily limit of 1 GB. Data usage beyond the daily limit comes at a speed of 128 kbps, Jio said on its portal.