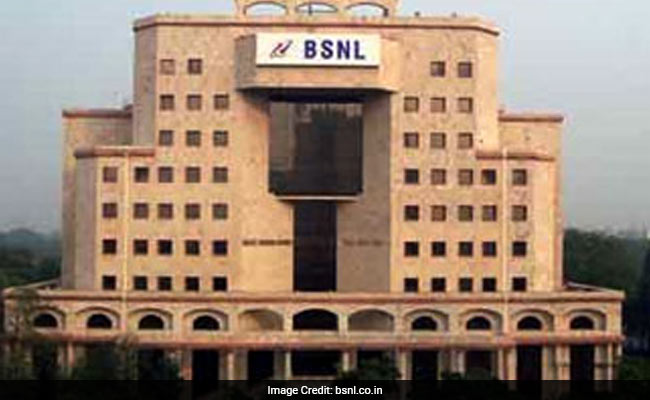 Amid intense competition in the telecom sector, BSNL or Bharat Sanchar Nigam Limited is offering up to 500 MBs or megabytes of mobile data to new prepaid customers. In a limited-period promotional scheme, BSNL is offering "500/350 MBs of mobile data for new connections under prepaid mobile services", it said on its website - bsnl.co.in. Called "welcome offer", the promotional scheme will be applicable for all prepaid plans, Bharat Sanchar Nigam Limited (BSNL) further said. Explaining the calling and data benefit under the offer, BSNL said: "Promotional Welcome offer of free 500 MB data (to be used in the first 30 days) and unlimited On-Net calls for first 3 days in East Zone and 350 MB free data in other Zones (to be used in first 30 days) for each new connection including MNP port in customers on Pan India basis for 90 days from 29.08.2017."
BSNL offers services in several telecom circles across the country. These include Andhra Pradesh, Assam, Bihar, Chhattisgarh, Jharkhand, Gujarat, Haryana, Himachal Pradesh, Jammu and Kashmir, Karnataka, Kerala, Tamil Nadu, Madhya Pradesh, Maharashtra, Odisha, Punjab, Rajasthan, Uttar Pradesh and West Bengal.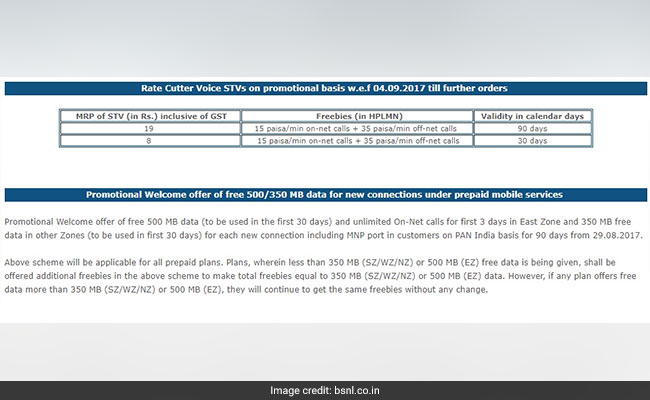 (BSNL said the 'welcome offer' will be applicable to all prepaid plans)
"Plans, wherein less than 350 MB (SZ/WZ/NZ) or 500 MB (EZ) free data is being given, shall be offered additional freebies in the above scheme to make total freebies equal to 350 MB (SZ/WZ/NZ) or 500 MB (EZ) data. However, if any plan offers free data more than 350 MB (SZ/WZ/NZ) or 500 MB (EZ), they will continue to get the same freebies without any change," BSNL added.
BSNL Rs 249 recharge
Under another limited-period promotional scheme, BSNL is offering unlimited local and STD on-net calls - BSNL-to-BSNL calls -with 1 GB data per day for 28 days at Rs 249. BSNL's promotional STV or special tariff voucher or Rs 249 is available from September 15, 2017 to October 25, 2017, according to its website.
#BSNL to #BSNL unlimited Local/STD calling and 1GB data per day for just Rs 249. pic.twitter.com/r8IzRaArYc

— BSNL India (@BSNLCorporate) September 15, 2017
BSNL is also offering low calling rates under STVs, called "Rate Cutter Voice STVs", priced at Rs 8 and Rs 19, it added. The promotional STVs of Rs 8 and Rs 19, it said, started with effect from September 4, 2017 "till further orders".
BSNL Rs 8 recharge
BSNL said its STV of Rs 8 will lower the BSNL-to-BSNL call rate to 15 paise per minute for 30 days from the date of recharge. On-net calls refer to calls made from home network (BSNL in this case) to another connection within the home network.
BSNL Rs 19 recharge
At Rs.19, the same rates - 15 paise per minute for calls on BSNL network and 35 paise for other networks - can be enjoyed for a validity of 90 days, BSNL added.
Highly competitive pricing of mobile data and the facility of free voice calling by new entrant Reliance Jio has forced incumbent players to announce new plans or revise existing offers to protect their market share, say some analysts. Many incumbent telecom companies have come up with new packs and plans for their prepaid and postpaid customers alike to tackle the competition.
Reliance Jio offers many recharge options to its prepaid customers. Two of its recharge plans - Rs.399 and Rs. 349 - look to address the needs of different customers and to increase the company's overall blended ARPU (Average Revenue per User), say telecom analysts.
Jio's Rs. 349 recharge pack comes with 20 GBs of 4G speed data with a validity of 56 days without any daily limit, according to Reliance Jio's website - jio.com. Reliance Jio's Rs. 349 pack comes with 1 GB of 4G data per day for 84 days along with free voice calls, SMS (short message service) and access to MyJio app services.