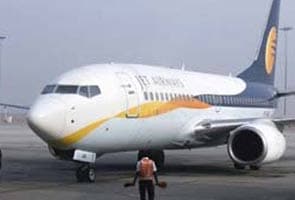 Shares in airline operators like jet Airways and SpiceJet gained over 3 per cent each on Wednesday as prices of aviation turbine fuel (ATF) were cut by an average 3 per cent across cities on Tuesday.
Prices of Jet fuel were slashed by Rs. 2,077.62 per kilo-litre, or 2.98 per cent, in Delhi to Rs. 67,525.63 per kl, India's largest fuel retailer said.
This is the third reduction in jet fuel rates since July. Declining international oil prices have made imports cheaper, resulting in price reduction.
Jet fuel constitutes over 40 per cent of airlines' operating costs and the price cut will ease the operating cost of cash-strapped carriers which have taken a hit on their financials due to high input cost, low demand and high competition.
Shares in Jet Airways have corrected 23 per cent in last three months and SpiceJet shares have declined nearly 35 per cent in the same period as against Nifty's 3 per cent gain in the same period.
As of 12.13 p.m. shares in Jet Airways traded 2.33 per cent higher at Rs 213 and SpiceJet was up 1.94 per cent at Rs 12.56, outperforming the Nifty which was down 0.30 per cent.
(With agency inputs)