Full service carrier Jet Airways, on Wednesday, launched the JetUpgrade offer, under which it is allowing customers from economy and premiere classes to bid for an upgrade. The offer allows all passengers holding confirmed economy or premiere bookings of
Jet Airways
to bid for an upgrade to premiere or first class respectively, said Jet Airways in a statement. Passengers who have bought flight tickets of Jet Airways can bid for upgrade under JetUpgrade from Jet Airways' website, jetairways.com. Jet Airways will open the bidding only seven days prior to the flight's departure, it said.
How to avail an upgrade under Jet Airways' offer
To avail an upgrade, interested passengers can place a bid on Jet Airways' website under the "Manage My Booking" section, stating the amount they're willing to bid for the upgrade. Bidding opens at least seven days prior to the flight's departure date and closes 24 hours before the scheduled departure time. In the interim, passengers can modify, or even cancel their bids. However, they will not be able to withdraw their bid once it is accepted as per the defined timelines, said
Jet Airways
.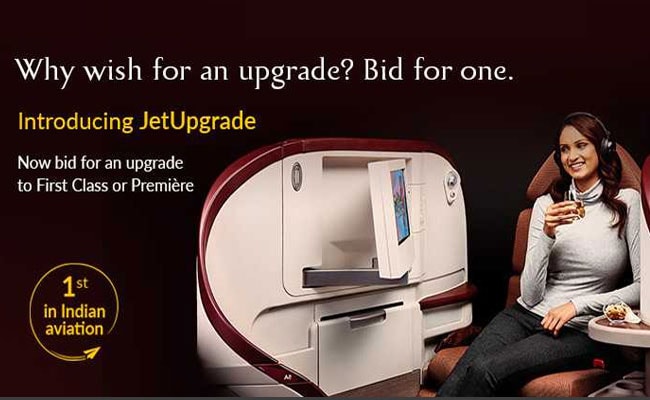 (Passengers will not be able to withdraw their bid once it is accepted as per the defined timelines, said Jet Airways.)
While all bidders have to submit their credit card details during the bidding process, only the card of the winning bidder will be charged. A revised e-ticket will be sent to the winning bidder. The original booking of all other passengers will remain unaffected.
Jet Airways
will notify the guests about the bids and their status via email communication well in advance of the flight's departure.
Raj Sivakumar, Sr. Vice President, Network Planning and Revenue Management, Jet Airways, said, "JetUpgrade raises the industry benchmark of customer experience, offering more value to those guests who appreciate our superior in-flight services."
Launched in collaboration with PlusGrade, which works with leading global airlines, 'JetUpgrade' has been made available across the airline's entire network of 65 domestic and international destinations, and on all flights operated by it.
Jet Airways
is also running a context to offer two
couple plane tickets to Amsterdam
.
Jet Airways is offering up to
30 per cent discount
on select destination in Europe.
The Jet Airways Group currently operates a fleet of 120 aircraft.
Get Breaking news, live coverage, and Latest News from India and around the world on NDTV.com. Catch all the Live TV action on NDTV 24x7 and NDTV India. Like us on Facebook or follow us on Twitter and Instagram for latest news and live news updates.