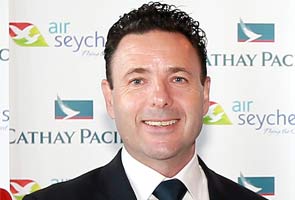 Jet Airways today announced the appointment of its new CEO, aviation specialist Cramer Ball, after its earlier chief quit in January.

The airline's activities were since that time being managed by Director and Manager Gaurang Shetty, who will continue to lead it "till the requisite approvals are obtained and Ball assumes charge as the CEO," said a Jet spokesperson.

Jet's last CEO, Garry Kenneth Toomey, had quit in mid-January, barely seven months after taking charge of the airline.

The Jet Board of Directors has cleared Ball's appointment subject to receipt of requisite government and regulatory approvals, including security clearance, the spokesperson said.

A highly-respected aviation professional, Ball has almost two decades of senior-level experience in the aviation industry under his belt.

Earlier this year, he completed a two-year term as the Chief Executive Officer of Air Seychelles, where he led a major restructuring programme which returned the airline to profitability in 2012 and 2013.


Air Seychelles is a strategic partner of Etihad Airways, the national airline of the UAE which has bought a 24 per cent stake in Jet Airways.
In November last, the Competition Commission of India had cleared Etihad's Rs 2,058-crore deal with Jet, the first such investment since the government allowed foreign airlines to invest in Indian carriers in September, 2012.
Before joining Air Seychelles, Ball was regional general manager of Asia Pacific South and Australasia at Etihad, which holds 40 per cent equity in Air Seychelles.
Ball has previously held senior management positions at Gulf Air, Qantas Airways, Kendell Airlines and Ansett Australia/Air New Zealand.