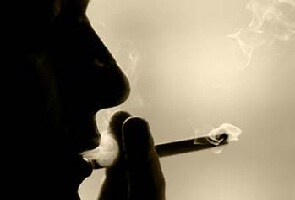 Shares in cigarettes manufacturer ITC and VST Industries fell nearly 1 per cent on Monday after Union Health Minister Harsh Vardhan wrote a letter to state government urging them to impose a Value Added Tax or VAT of at least 50 per cent on all tobacco products.
Mr Vardhan's communique to states comes soon after his request to Finance Minister Arun Jaitley to effect a hike in prices of tobacco products in this year's budget. (Read the full story here)
ITC pays an average VAT of 22 per cent on its tobacco products, analysts say. Any hike in VAT will lead to significant rise of prices of its cigarettes and may impact sales.
ITC shares have fallen nearly 1.39 per cent in last one month whereas shares in VST Industries corrected 2.69 per cent as compared to 2.4 per cent gain in Nifty.
As of 1.35 p.m. shares in ITC traded 0.20 per cent lower at Rs 332.65 whereas shares in VST Industries were down 1.2 per cent at Rs 1,780.