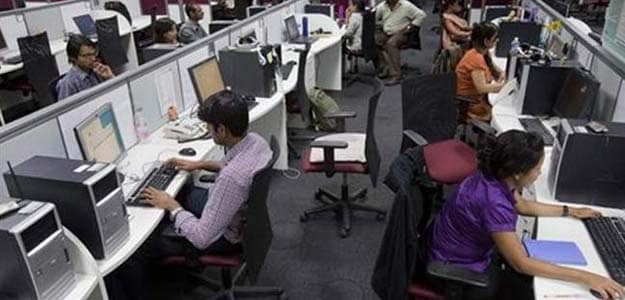 New Delhi:
Healthy demand across developed markets is expected to bolster revenues of Indian IT services firms for the April-June quarter but margins may remain under pressure due to salary hikes, visa costs and a stronger rupee, according to market analysts.

The first quarter (April-June) of fiscal year 2014-15 is generally strong for the $118-billion IT-BPO industry as client budgets start rolling out during the period.

The earnings season will be kicked off by Infosys which is announcing its quarterly numbers on July 11, followed by Tata Consultancy Services (TCS) on July 17 and Wipro on July 24.


"We expect companies to report a strong performance on the revenue front (dollar terms). The industry is also seeing strong demand trends as developed economies recover further," Kotak Securities head (private client group research) Dipen Shah said.
Cross-currency benefits should also help revenues to the extent of 30-40 basis points, he added.
"Margins are expected to be under pressure quarter-on-quarter due to salary hikes (most companies), higher visa costs as well as the rupee appreciation," he said.
According to Emkay, wage hikes, visa expenses and currency appreciation could impact operational margins for the top IT players adversely by about 130 to 230 bps on quarter-on-quarter basis.
"Overall, the demand outlook is healthy in the US and Europe. We expect management commentary/guidance to reflect this optimism," Anand Rathi said in its results preview.
Ms Shah agreed saying the economies of the US and European Union have continued to show signs of improvement and stabilisation, respectively.
"This should bode well for client spending. TCS has already indicated that, growth should be in line with its expectations," he added.
Nomura expects the aggregate dollar revenue growth of tier I IT firms to improve 3.4 per cent q-o-q in Q1 FY15 with TCS at 4.5 per cent and HCL Technologies at about 3.5 per cent.
Infosys and Wipro are likely to lag with 2.2 per cent and 1.2 per cent quarter-on-quarter growth respectively, it added.
Greyhound Research chief executive Sanchit Vir Gogia said that the first quarter is expected to be relatively good, but he is more hopeful of July-September and October-December quarters.
"No doubt, April-June has been positive, but the present quarter and the third are expected to be better. We see pent-up demand rising in Europe, China is also looking good and the US market has picked up," he added.