Highlights
No concession is allowed in train ticket booking under Tatkal quota
A passenger has to shell out extra known as Tatkal charges
Booking for Tatkal tickets opens a day in advance of date of journey
IRCTC'
s (Indian Railway Catering and Tourism Corporation) Tatkal ticket booking facility is meant for passengers who have to undertake train journey at a short note.
Tatkal ticket booking facility
was first introduced in 1997 in some trains and later extended to man other trains. Before you book tickets under the Tatkal quota, check the general quota availability, says the website of IRCTC or the e-ticketing arm of Indian Railways. The bulk of the tickets under the Tatkal quota is booked within minutes after the Tatkal facility opens. A passenger has to shell out extra – known as Tatkal charges - for booking tickets under Tatkal quota. No concession is allowed in train ticket booking under Tatkal quota. Tatkal bookings are not allowed First AC class.
Tatkal Ticket Booking Timings
Booking for Tatkal tickets opens a day in advance of the actual date of journey. Bookings for Tatkal tickets of AC classes open at 10:00 am and for non-AC classes at 11:00 am.
Tatkal Reservation Charges
Tatkal charges are fixed as a percentage of fare at the rate of 10 per cent of basic fare for second class and at the rate of 30 per cent of basic fare for all other classes subject to minimum and maximum charges.
| | | | |
| --- | --- | --- | --- |
| Class of travel | Minimum Tatkal charges (in Rs.) | Maximum Tatkal charges (in Rs.) | Minimum distance for charge (in km) |
| Second (sitting) | 10 | 15 | 100 |
| Sleeper | 100 | 200 | 500 |
| AC Chair Car | 125 | 225 | 250 |
| AC 3 Tier | 300 | 400 | 500 |
| AC 2 Tier | 400 | 500 | 500 |
| Executive | 400 | 500 | 250 |

Tatkal Train Ticket Cancellation
No refund is granted on cancellation of confirmed Tatkal tickets.

Tatkal Ticket Refund For Wait-Listed, RAC Tickets
For RAC (Reservation Against Cancellation) or waitlisted tickets booked under Tatkal quota, refund is made if the ticket is cancelled up to 30 minutes before the scheduled departure, according to the IRCTC website. If confirmed reservation has been provided to an RAC or wait-listed ticket holder at any time up to final preparation of charts, such a ticket is treated as confirmed.
If a train is running late by more than three hours or the train is cancelled, please file Ticket Deposit Receipt (TDR) with proper reason for claiming refund, according to the IRCTC website.
Tatkal Refund Rules
Here are the rules given by Railways on its website where it grants full refund of Tatkal tickets:
If the train is delayed by more than 3 hours at the journey originating point of the passenger
If the train is to run on a diverted route and passenger is not willing to travel
If the train is to run on diverted route and boarding station or the destination or both the stations are not on the diverted route
In case of non-attachment of coach in which Tatkal accommodation has been earmarked and the passenger has not been provided accommodation in the same class.
If the party has been accommodated in lower class and does not want to travel (In case the party travels in lower class, the passenger will be given refund of difference of fare and also the difference of Tatkal charges, if any.)
How To Book Tatkal Train Tickets Through New IRCTC Facility
IRCTC has been introducing new facilities for payment of e-tickets (including Tatkal tickets). One of these facilities is 'Paylater', Powered by Arthashastra Fintech. This option enables passengers to book tickets first and pay later.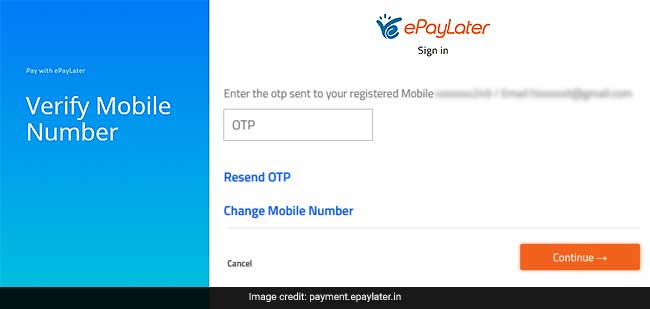 (The ePayLater option to book Tatkal tickets via the IRCTC website)
While making payment for e-tickets, you have to choose Paylater from the payment options. You get the payment link through email and SMS on making your booking. If you are availing the ePayLater option, the system asks you to register first.
You get up to 14 days to make the payment. Basically, ePayLater pays for you whenever you book a ticket. And you have to pay 3.50 per cent as charges, plus applicable taxes.
Other Things To Know On Railway Ticket Booking
In case of family e-ticket issued for travel of more than one passenger, some passengers have confirmed reservation and others are on RAC or waiting list, full refund of fare, less clerkage, shall be admissible for confirmed passengers also subject to the condition that the ticket shall be cancelled online for all the passengers up to thirty minutes before the scheduled departure of the train, mentions the IRCTC website.
Get Breaking news, live coverage, and Latest News from India and around the world on NDTV.com. Catch all the Live TV action on NDTV 24x7 and NDTV India. Like us on Facebook or follow us on Twitter and Instagram for latest news and live news updates.