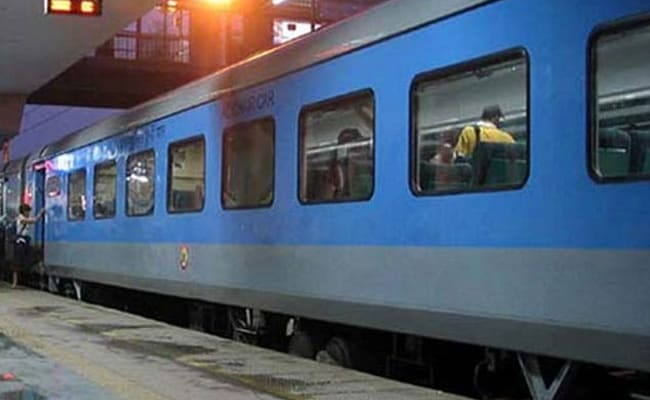 IRCTC, the e-ticketing arm of Indian Railways
, has introduced a new payment mechanism for booking e-tickets, including Tatkal tickets. Now, IRCTC e-wallet users can book rail e-tickets including Tatkal quota tickets through mobile app IRCTC Rail Connect, the Indian Railways ticketing arm said on microblogging site Twitter. IRCTC e-wallet is a payment mechanism which enables users to deposit money in advance with IRCTC. This money can be used as a payment option
IRCTC
for paying money at the time of booking train tickets.
Introduced in 1997,
the Tatkal scheme
is meant for booking tickets at a very short notice. Booking for Tatkal tickets of AC class opens at 10:00 am and for non-AC class at 11:00 am, one day in advance from the actual date of journey. Under the Tatkal scheme, passengers get no refund in case of cancellation of confirmed tickets except in some special circumstances. This is meant to prevent misuse of the Tatkal scheme. Under the non-Tatkal or general ticket booking scheme advance reservations can be made up to 120 days in advance.
Now #IRCTC e-wallet users can book #rail e-tickets including of #Tatkal quota through IRCTC Rail Connect Android App. Download now! Just log on to https://t.co/s3mX8VqAiNpic.twitter.com/3h4F3Id7WX

— IRCTC (@IRCTCofficial) May 1, 2018
How To Pay For e-Tickets Through IRCTC e-Wallet

You need to register yourself for using IRCTC e-wallet facility. Customers can register themselves through the IRCTC website. According to IRCTC, a user can have a maximum of six banks in his or her preference list. An user can manage 'Bank Preferences' under the My Profile section.

Passengers can book tickets by selecting IRCTC's e-wallet service while making payments.

IRCTC e-wallet is among the many payment e-wallet options made available by IRCTC in the payments page of its website as well as mobile app.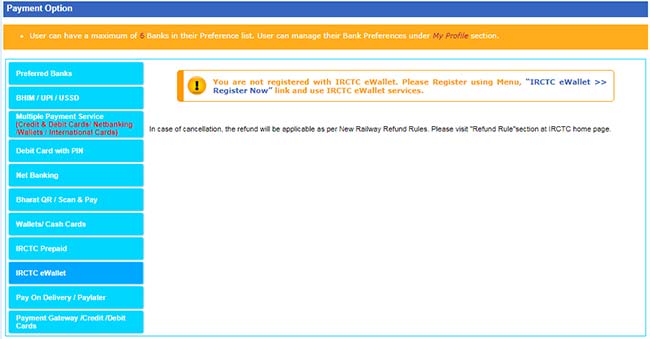 (A screenshot of the IRCTC website)
IRCTC customers also have the option of booking tickets through other digital wallets too.

(A screenshot of the IRCTC Rail Connect App)
IRCTC - Other Things To Know About Tatkal e-Ticket Booking
Railways
has taken many steps to avoid the misuse of the online Tatkal booking system. In opening Tatkal hours (from 10:00 to 12:00 hours), only two Tatkal tickets can be booked under a single user ID.
In addition, except for a return journey, only one Tatkal ticket booking in a single session is allowed.
Further, only two Tatkal tickets per IP Address during the Tatkal hours (10:00-12:00) are allowed.
Authorised agents cannot book Tatkal tickets during the first 30 minutes of opening of reservation window.