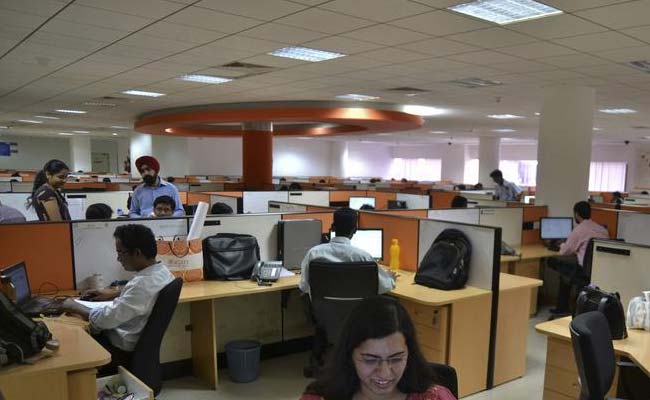 Highlights
Indian IT growth impacted by tightening H-1B visa norms in US
Insourcing adds to existing growth challenges for Indian IT, says Nomura
Challenges for Indian IT increased over past couple of years, it adds
Tightening visa norms in major markets like US (H-1B visas) and a change in technological landscape has been hurting the growth of Indian IT industry. Now it faces another worry: the rise of insourcing or the practice of moving IT work in-house vs outsourcing to service providers, according to global brokerage Nomura. "The India IT industry is facing a structural headwinds from having higher exposure to slower-growing legacy segments as spending shifts towards newer areas like Digital (social, mobile, analytics, cloud, security and IoT)," says Nomura, adding that "insourcing adds to already existing challenges to growth for India IT".
According to Nomura, insourcing is starting to increase, with large outsourcing customers turning substantially inwards for their IT requirements and setting up or expanding global in-house centres.
In a report titled "Insourcing: Next big worry for India IT", the financial services major says: "Over the past couple of years, challenges for India IT have increased, with 1) significant technology transitions changing the nature of demand and cannibalising traditional offerings and 2) rising competition from both global players and emerging challengers tempering their market share gains. In addition, the insourcing (moving IT work in-house) drive at clients has largely flown under the radar, but now has the scale, credibility and momentum to further chip away at growth for India IT providers. We believe this is a structural change."
Here are recent trends in insourcing, according to Nomura:
1) Global in-house centres (GICs) are nearly 25 per cent of global outsourcing spending, with India GICs capturing more than half of it and growing faster at a 12.4 per cent CAGR (vs service providers at 10.7 per cent) over the past 5 years.
2) Historically mature verticals (BFSI/Tech), US and larger clients (with over $5 billion revenue) have dominated the GIC market. But, recent trends suggest widespread adoption across verticals, EU/Japan (similar incremental setups in EU vs US) and smaller clients (equal split versus large clients).
3) Over the next five years, 50 per cent of the G2000 (Forbes Global 2000) companies could shift vendor management materially to in-house centres, leading to pricing pressure for IT service providers.
4) Revenues of India-based global in-house centres are on track to touch $25 billion FY17. Nearly 1 million IT professionals are employed across more than 1,000 GIC centres in India.
5) US remain the dominant home geography for parents of GICs, but there is significant geographical diversification happening in terms of newer GICs with Europe catching up. 27 per cent of US-based global 2000 companies have a GIC in India.
6) Rise of automation and robotics is reducing the labour component of certain activities and functions, making insourcing viable even in traditional/more commoditised offerings.