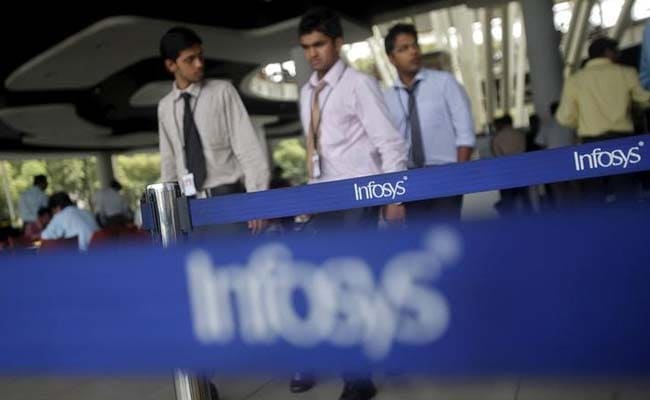 Highlights
Infosys reports net profit of Rs 3,708 crore in December quarter
Infosys crossed $10 billion revenue mark in 2016, said Vishal Sikka
Infosys tweaked its dollar revenue guidance for the current fiscal
Infosys reported a better-than-expected net profit of Rs 3,708 crore in the December quarter, sending
its shares
4 per cent higher in early trade on Friday. However, Infosys shares later gave up most of the early gains and ended 2.4 per cent lower after the outsourcer tweaked its guidance for the full year.
For the calendar year 2016 (January-December), Infosys's revenues crossed $10 billion, CEO Vishal Sikka said.
"This is a huge emotional and psychological milestone for us," he said, adding that Infosys is working hard towards achieving the $20 billion milestone by 2020.
The company has appointed Ravikumar S. as deputy chief operating officer reporting to Pravin Rao, the chief operating officer, with immediate effect. In addition to his current responsibility of heading the global delivery organization, Mr Ravikumar will oversee certain strategic business enabling functions and will be based in India.
Bengaluru-headquartered Infosys said it expects revenue to grow between 8.4 percent to 8.8 percent in constant currency terms in the fiscal year to March. Its earlier guidance was for an increase of between 8 per cent and 9 per cent in full-year revenue.
Indian information technology companies such as Infosys have struggled in 2016 as major clients in the United States and Europe, their biggest markets, held back discretionary spending, awaiting clarity on policy changes under U.S. President-elect Donald Trump's administration, and changes following the UK's Brexit move.
Sanjeev Hota of Sharekhan said Infosys earnings are overall good. But since the IT company cut the upper end of its guidance, the stock took some knock, he added.
Infosys CEO Vishal Sikka in the earnings press conference also mentioned that Infosys is seeing "continued pricing pressure". This also hit the market sentiment, Mr Hota added.
During the third quarter, in dollar terms, Infosys reported revenues of $2,551 million for the quarter ended December 31, 2016, a decline of 1.4 per cent sequentially. However, it was in line with the Street's estimates. Infosys also reported a better-than-expected operating margin of 25.1 per cent.
In rupee terms Infosys' revenue fell to Rs 17,273 crore compared to Rs 17,310 crore in September quarter. Analysts polled by NDTV Profit had estimated its revenue at Rs 17,290 crore.
"Taking into account seasonal and other additional headwinds for the quarter, our Q3 revenue performance was broadly in line with our expectations," said Vishal Sikka, CEO and MD.
Attrition at Infosys declined sequentially by 0.8 per cent on standalone basis and 1.6 per cent on consolidated basis. "In a seasonally soft quarter, our utilization has remained healthy." said UB Pravin Rao, COO. "Our continued efforts to improve employee engagement and experience resulted in a reduction in attrition."
(With Agency Inputs)