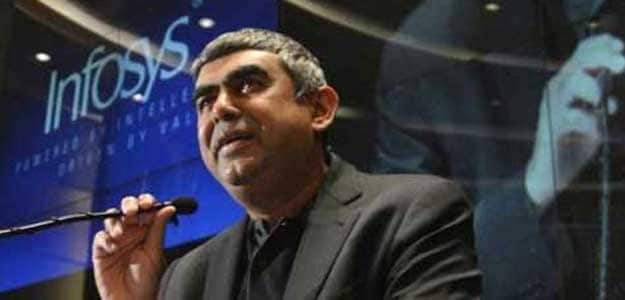 Highlights
Infosys cuts FY17 revenue guidance to 10.5-12%
Its earlier estimate was 11.5-13.5%
Infosys Q1 dollar revenue of $2,501 million missed estimates
Infosys on Friday revised downward its revenue guidance for FY17, triggering a sharp selloff in its shares. Infosys shares crashed nearly 11 per cent after earnings announcement.
The stock
was the top loser in the Nifty50 index.
"I'm disappointed with the revenue performance in Q1... I had expected that we would do better than this,"
said Vishal Sikka, CEO of Infosys
.
India's second largest outsourcer expects FY17 revenue to grow at a slower pace between 10.5 per cent and 12 per cent in constant currency versus its previous estimate of 11.5-13.5 per cent.
The management said
Britain's vote to exit the European Union
has left Infosys with little visibility on future business prospects.
"As we look ahead to the future clearly (Brexit) is something that many banks are worried about and so forth," said Dr Sikka. "In the near term we don't know how this will play out and so forth. So, given the visibility we lowered our guidance."
Infosys' first-quarter operational numbers were also weak, which disappointed investors. Infosys reported a net profit of Rs 3,436 crore on sales of Rs 16,782 crore in the June quarter, missing the Street's expectations.
In dollar terms, Infosys reported revenue of $2,501 million, much lower than $2,546 million estimated by analysts polled by NDTV Profit.
"We had unanticipated headwinds in discretionary spending in consulting services and package implementations as well as slower project ramp-ups in large deals that we had won in earlier quarters, resulting in a lower than expected growth in Q1," Dr Sikka said.
Q1 attrition rose to an annualised 21 per cent versus 17.3 per cent in the previous quarter, Infosys said. More employees left the company in the June quarter as against March quarter, which is a cause of worry, analysts said.
Infosys COO Pravin Rao said the bump-up in attrition is partly on account of seasonality as some employees leave to pursue higher education during the June quarter.
"Higher performers' attrition has come down... At this stage we are not concerned," Mr Rao said. Infosys has relaunched its employee stock option programme
after a gap of 13 years
, he added.
Infosys numbers led to a selloff in IT stocks. India's biggest outsourcer TCS, which had reported better-than-expected profit in Q1, closed 3 per cent lower at Rs 2,445.
"The macro conditions are uncertain, the company's execution is questionable and their product offering and the way the industry and technology shifts are happening, there's clearly a lot of work that needs to be done, not only by Infosys but by every IT services company,"
said Trip Chowdhry MD of Global Equities Research
.
Infosys shares closed 8.8 per cent lower at Rs 1,072.55, underperforming the broader Nifty, which ended 0.30 per cent down.
(With agency inputs)