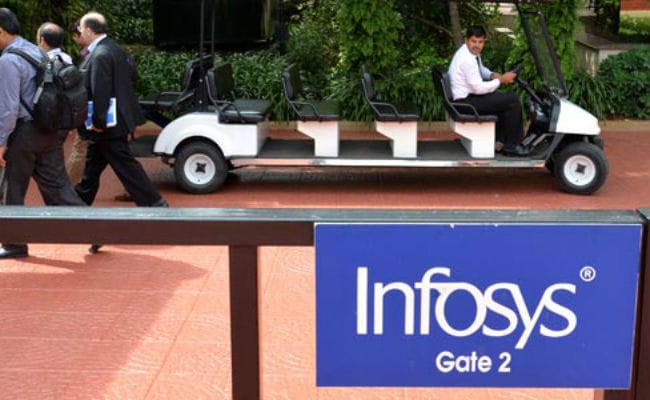 Highlights
Rajiv Bansal's severance pay was suspended earlier this year
Narayana Murthy had questioned the large severance pay in August
In October, Infosys had cleared the Panaya deal of any wrong-doing
Infosys said on Wednesday that it has submitted an application for settlement with market regulator Securities and Exchange Board of India (Sebi) over the severance pact that it entered into with former CFO Rajiv Bansal in October 2015. This move comes after co-founder Narayana Murthy raised questions over a massive severance package being doled out to Mr Bansal, who was sacked as the chief financial officer when Vishal Sikka was the CEO and managing director of the company. The settlement is based on the undertaking that Infosys will "neither admit nor deny the finding of fact or conclusion of law", a company press release said.
Mr Bansal's
severance package
- amounting to Rs. 17.38 crore - equalled 24 months of pay.
Infosys had agreed to pay Mr Bansal the severance amount of Rs 17.38 crore but the company suspended payments after he got Rs 5 crore as Mr Murthy and others objected to the severance package as they termed as excessive and said that it could be seen as "hush money".
Mr Bansal then dragged his former employer to arbitration to claim the remaining Rs 12 crore of his severance pay. The company, at that time had said, that the payment includes non-compete obligation, including other rights and obligations.
"Through the settlement application, the company wants to resolve allegations relating to the company not seeking prior and separate approval of the nomination and remunerations committee, and the audit committee in relation to the severance agreement entered into with the former CFO; and in relation to disclosures pertaining to the said severance agreement, cessation of payments and initiation of arbitration under the severance agreement," said Infosys in a filing to the Bombay Stock Exchange.
"The company will provide an update upon conclusion of the confidential settlement process," said Infosys.
Founder Naryana Murthy had raised issues of poor corporate governance and high compensation to top executives while the company was headed by former CEO Mr Sikka.
The protracted disagreement between top management and the founder eventually led to the exit of Mr Sikka in August this year.
In particular Mr Murthy had questioned the company's $200 million Panaya acquisition and the severance being demanded by Mr Bansal. Infosys founders had questioned Mr Sikka's compensation, which totalled Rs 48.7 crore in base salary, bonus and benefits in fiscal 2016.
Co-founder Nandan Nilekani returned to chair the company in August 2017 after Mr Sikka stepped down.
In October, Infosys board under Mr Nilekani gave a clean chit to the controversial
Panaya
acquisition, saying there was no merit in the allegations of wrongdoing. But it refused to make the audit public.
However, Mr Murthy remained unappeased saying that the board had still not addressed questions he had raised about poor governance and excessive severance.
"I stand by every question on poor governance raised in my speech to Infosys investors dated August 29, 2017," Murthy wrote in a statement in October. "The fact remains that none of these questions have been answered by the Infosys board with the transparency it deserves. I am disappointed."
Recently, Infosys appointed
Salil S Parekh
as chief executive officer and managing director. Mr Parekh will replace U B Pravin Rao, who took over as the Bengaluru-based IT company's interim CEO and managing director in August.