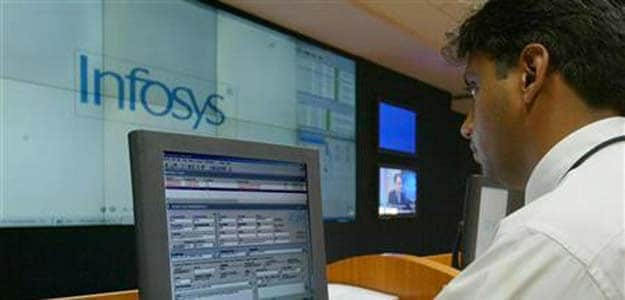 Infosys shares jumped as much as 7.5 per cent on Friday after India's second largest outsourcer reported higher than estimated sales for the September quarter. Profits lagged estimates at Rs 2,407 crore, but the hit came on account of one-time visa charges.
Infosys shares were choppy as analysts failed to reach a consensus on the revised annual guidance announced by the IT major. Infosys raised the lower end of annual guidance from 6 to 9 per cent, but the upper end of the guidance remained intact at 10 per cent. Some analysts said the guidance was "conservative" and that Infosys could grow at 10 per cent for the full year even if it does not grow sequentially over the next two quarters.
Here's what top analysts told NDTV on Infosys Q2.
Ambareesh Baliga, Edelweiss Global Wealth: People were more optimistic on the guidance front, but at current levels, the best is priced in the stock. I don't think investors should buy at these levels.
Gautam Chhaochharia, UBS: September quarter results will lead to increased bullishness towards Infosys. In our view, Infosys has been the top pick. In the June quarter, Infosys had given a guidance of 6-10 per cent, which was not a sign of confidence but the September quarter results will lead to increased bullishness towards Infosys. Infosys has choosen to not go overboard and they are going back to their old approach of being conservative.
Mehraboon Irani, Nirmal Bank Securities: Infosys has turned the corner as far as the company goes. The will be a stock people will again look at. Investors should not resist from buying for a long term.
Trip Chowdhry, Global Equity Research: This is the second quarter in succession when numbers are impressive at despite the slowdown in the global economy. Infosys has benefitted from the management shuffle, with NR Narayana Murthy returning at the top and an uptick in select areas of technology. The stock might be in a range because we still don't see a secular trend.
Sarvendra Srivastava, an independent market analyst: The trend in Infosys shares are up on short, medium and long term. 2,800 is a good long term support for Infosys. Any correction towards 2,800 levels should be bought into.