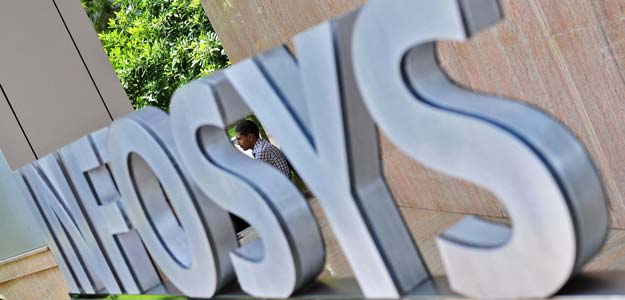 Infosys on Friday beat profit estimates on the back of higher-than-expected rise in September quarter margins. The company's board approved an interim dividend of Rs 30 per share and a bonus issue of one equity share for every equity share held, leading to a sharp jump in stock prices. (Read)
Infosys shares closed 6.7 per cent higher at Rs 3,888.95 after earlier hitting a new 52-week high of Rs 3,908. The stock outperformed the broader Nifty, which fell 1.3 per cent tracking global markets. Infosys was the top gainer on the 50-share Nifty index. (Track stock)
The Q2 results are the first since Vishal Sikka took over as Infosys CEO on August 1. Dr Sikka, a former SAP top executive, is the first non-founder CEO of Infosys.
Between July and September, Infosys net profits rose to 3,096 crore on sales of 13,342 crore. Brokers polled by NDTV had expected Infosys to report a net profit of Rs 2,959 crore on sales of Rs 13,318 crore.
India's second biggest outsourcer had reported a net profit of Rs 2,886 crore on sales of Rs 12,770 crore in the June quarter (Q1).
Operating (ebit) margin rose to 26.1 per cent, beating estimates. Infosys chief financial officer Rajiv Bansal said margins expanded despite making significant investments in business.
Over the past few quarters, Infosys has focused on improving efficiencies and cutting costs, which has boosted margins.
However, Infosys retained its dollar revenue guidance at 7-9 per cent for the current 2014-15 fiscal year. In September quarter, dollar revenues rose to $2201, slightly higher than estimates of $2195 million.
Over the last few years, Infosys has lagged behind its peers in terms of growth, but today the new CEO vowed to bring Infosys on a consistent profit growth path. (Watch: Infosys Can Become Next-Gen Services Company, says Vishal Sikka)
"We look forward to become the bellwether of Indian IT industry again," Dr Sikka said at his first press conference after becoming Infosys CEO. (Read more)
He also announced 100 per cent bonus for all employees. Analysts say the move is aimed to control a record-high attrition at Infosys. In the September quarter, attrition rose to 20.1 per cent from 19.5 per cent in the June quarter. That means one employee in five left the company during the quarter. (Read)
Pramod Gubbi of Ambit told NDTV that Infosys Q2 results are better than estimates. "The margins have been better, but the focus in on the new line of strategey that CEO Vishal Sikka will outline and how that strategy will be executed over the next couple of years," he added.
Mr Gubbi, however, said that there was not enough in Q2 results to justify the surge in stocks today.