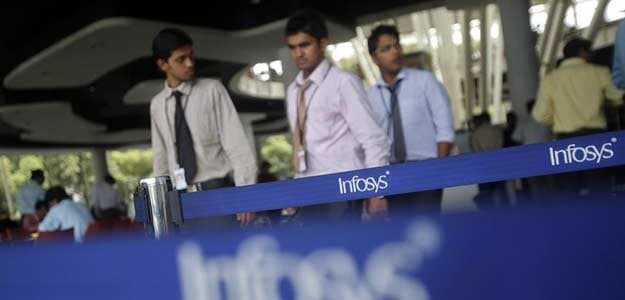 Infosys on Friday reported flat profit for the July to September quarter, but sales topped estimates. Infosys also upped the lower end of its annual sales guidance to 9-10 per cent from 6-10 per cent earlier, indicating rising confidence at India's second largest outsourcer.
Profits lagged estimates on account of a one-time visa settlement charge of Rs 219 crore, Infosys said.
The stock opened 10 per cent higher in pre-open trade after US dollar revenue for the quarter jumped 3.8 per cent to $ 2066 million, higher than expectations of $2042 million. Infosys had recorded sales of $1991 million in the June quarter.
Infosys said net profit for the second quarter rose to Rs 2,407 crore as against Rs 2,374 crore in the June quarter. Revenues for the quarter rose to Rs 12,965 crore as against Rs 11,267 crore in the previous quarter, Infosys said.
A brokers' poll conducted by NDTV had estimated Infosys to report Rs 2,601 crore in profits on sales of Rs 12,800 crore.