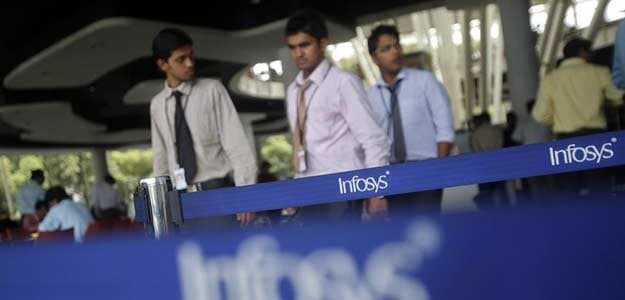 Bangalore:
Infosys Ltd, India's second largest IT services provider, on Friday said it would boost investment in cloud computing, smartphone apps and other new technologies to win more high-margin outsourcing contracts.

The move towards these more lucrative deals heralds a change in focus by Infosys, once a trendsetter in India's $100-billion IT outsourcing industry but which has struggled in recent years to retain staff and market share.

Analysts say new technology is the next big requirement for global corporations. Infosys currently derives the bulk of its revenue from low-margin and highly competitive businesses like application development and maintenance and IT infrastructure management services.

"Change is inevitable," outgoing chief executive and co-founder S D Shibulal told reporters after the company posted a higher-than-expected quarterly net profit growth of 21.6 per cent.

Newly appointed CEO Vishal Sikka, a former senior executive at German software company SAP AG who combines both business and tech savvy, is expected to drive the strategy change in Infosys.

Mr Sikka will also have to stem a staff exodus, which hit record-high levels in the quarter to June 30 as well as revive Infosys' innovative edge that, some investors, said was blunted by the outgoing, conservative management.

In a sign of the times, Infosys said it won a deal in the June quarter from a leading insurance company to develop a smartphone app that allows parents to set up a driving pact with their teenagers.

Infosys, which lost its position as India's most widely held stock to mortgage lender Housing Development Finance this year, was up 1.56 per cent at Rs 3,344.00 at 2:21 p.m. on the NSE, while the broader Nifty was down 1.20 per cent. (Track stock)

Staff exodus


Mr Shibulal, the last of Infosys' seven founders to hold the role of CEO and who is leaving at the end of this month, said the company had already taken several measures to retain staff, including quarterly promotions.
"Attrition is a matter of concern to us, it is definitely higher than our comfort range," he told reporters.
Chief financial officer Rajiv Bansal said he expected staff exits to moderate to around 15 per cent in the next few quarters, after the annualised staff attrition rate touched a record 19.5 per cent in the June quarter.
Infosys, which had cash and cash equivalents worth nearly $4.2 billion at end-June, maintained its revenue growth forecast for the year to March 2015 at 7-9 per cent, as analysts expected, with the company expecting to win some large deals this year.
Consolidated net profit for the quarter ended June 30 rose to Rs 2,886 crore ($480.20 million) from Rs 2,374 crore in the same year-ago period, and exceeding the Rs 2,672 crore average of analyst estimates, according to Thomson Reuters data.
Revenue in the quarter rose 13.3 per cent to Rs 12,770 crore, as Infosys added 61 new clients taking the tally to 910 at the end of June. Its customers include BT Group Plc, Bank of America and Volkswagen AG.
($1 = 60.1000 rupees)
Copyright: Thomson Reuters 2014