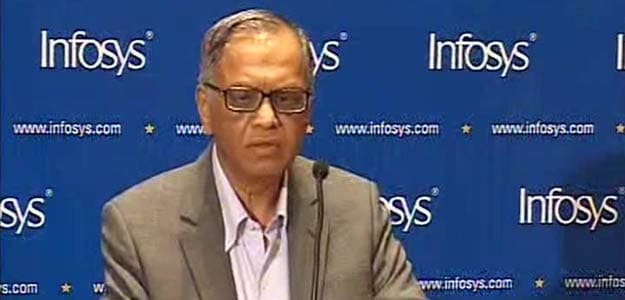 Infosys plans to hike wages of its nearly 1.58 lakh employees from April, according to its executive chairman Narayana Murthy.
Mr Murthy at an analyst meet on Friday said the management is thinking of going back to the April cycle of wage hikes. "We should get back to April cycle as far as wage hike is concerned. SD Shibual, BG Srinivas, Pravin Rao, Rajiv Bansal and me are of this view. I cannot comment at this stage, but our desire is the get back to the old cycle," he said. (Watch)
Co-founder Narayana Murthy, who returned to the helm of the IT major in June this year, made his first significant move by effecting salary hikes for its nearly 1.5 lakh employees in less than a fortnight of assuming the charge.
(See: Infosys Q3 net profit rises to Rs 2,875 crore, beats Street)
Most Indian IT firms give increments around April or May. In 2012, Infosys had announced salary hikes in October as it struggled with lower growth as compared to its peers like TCS and Cognizant.
(See:Infosys says no impact on market share, employee morale due to exits)
Infosys, which announced better-than-expected Q3 earnings today, said its attrition rose to 18.1 per cent in the December quarter as compared to 17.3 per cent in the previous quarter. The IT company has also witnessed a spate of senior level exits in recent times after Mr Murthy took over.