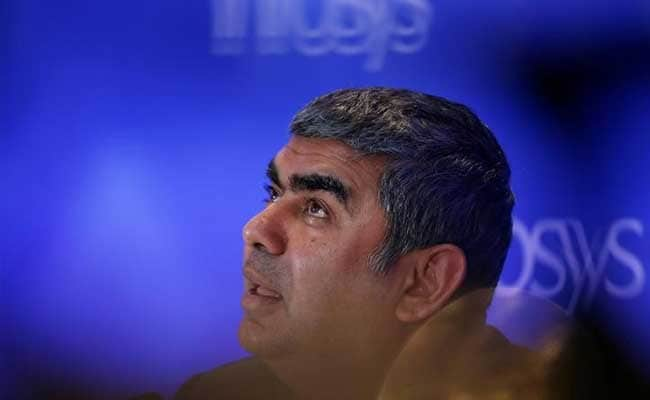 Highlights
Infosys reports net profit of Rs 3,603 crore in March quarter
It expects revenues to grow at 6.5-8.5% for current fiscal
Infosys to pay Rs 13,000 crore to shareholders in current fiscal
Infosys reported a net profit of Rs 3,603 crore in the March quarter, meeting the Street's estimates. Analysts polled by NDTV Profit had expected its net profit at Rs 3,565 crore. But the revenue numbers was lower than the Street's estimates. Infosys reported revenues of Rs 17,120 crore, slightly below the Street's estimates of Rs 17,248 crore. CEO Vishal Sikka said revenue performance in fourth quarter was lower than expected in which it faced "unanticipated execution challenges and distraction".

In a statement, Dr Sikka said, "Unanticipated execution challenges and distractions in a seasonally soft quarter affected our overall performance. At the same time, we continued to see many positive signs of our strategy execution."

Infosys' March quarter revenue growth in constant currency terms remained flat and for the fiscal year FY2017 it stood at 8.3 per cent, compared to its earlier guidance of 8.4-8.8 per cent.

Infosys, which has recently been in the spotlight due to differences between founders and board members over governance issues, also announced that Ravi Venkatesan has been appointed as co-chairman of the board. Ravi Venkatesan, who has been on the Infosys board since April, 2011, has made valuable contribution to the development of strategic direction of the company during his tenure, the Bengaluru-based company said in a statement.

"Ravi will help me enhance the board engagement in supporting the management in execution of company's strategy", said R Seshasayee, chairman of the Board.

On the important parameter of growth guidance, Infosys expects revenues to grow at 6.5-8.5 per cent in constant currency for the fiscal year ending March 31, 2018. This is lower than what the Street projected, sending Infosys shares lower. Analysts expected Infosys to give revenue growth guidance between 7-9 per cent in constant currency.


Urmil Shah of IDBI said Infosys' guidance was lower than its estimates. He said that developments on the H-1B visa front and the rupee's movement are the key factors to watch in the future.
Infosys says its board has identified an amount of up to Rs 13,000 crore ($2 billion) to be paid out to shareholders during financial year 2018, including by way of dividend and/or share buyback. Infosys had liquid assets (cash & cash equivalents and investments) of Rs 38,773 crore as on March 31, 2017.
IT companies have been under pressure to return money to shareholders at a time when growth is slowing down. Last month, HCL Technologies had announced share buybacks worth Rs 3,500 crore. Earlier, India's biggest outsourcer TCS came up with a Rs 16,000 crore buyback offer, the largest in Indian corporate history. Mayuresh Joshi, fund manager at Angel Broking, said the Rs 13,000 crore announcement is positive for Infosys shareholders.
Infosys has been following a policy of 50 per cent dividend payout from its post-tax profits. However, from current fiscal it expects payouts to shareholders to increase up to 70 per cent of distributable profit of the company.
Infosys shares closed 3.86 per cent lower at Rs 931.40 apiece against 0.61 per cent decline in Sensex.