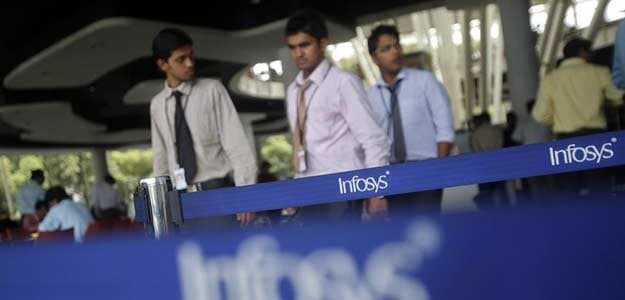 IT major Infosys sets the tone for India Inc.'s financial performance during earnings season. India's second biggest IT outsourcer is one of the first companies to report numbers every quarter and because of its large influence in the Nifty, it tends to impact the overall direction of stock markets.
IT stocks were the biggest gainers on Monday with Infosys leading from the front. The stock closed 3.1 per cent higher at Rs 3,345.45. The IT sub-index on the BSE closed 2.6 per cent higher outperforming the 0.5 per cent rise in the Sensex. (Track stocks)
IT stocks might be rising on hopes of strong revenue growth in the June quarter. There's also an element of short-covering. According to Nirmal Bang, both TCS and Infosys gained last week on covering of shorts (falling open interest accompanied by rising share prices).
Traders might also be covering shorts ahead of the budget, after which markets are expected to be volatile. IT stocks have underperformed the broader markets over a 3-month and 6-month period as investors bought economy-facing cyclical stocks and offloaded defensive stocks such as IT and pharma from their portfolios.
The June quarter is considered to be seasonally strong for outsourcers because most clients firm up their IT budgets by March after which new orders begin to flow. According to Nomura, tier-1 IT companies (TCS, Cognizant, Infosys, Wipro, HCL Tech and Tech Mahindra) are likely to post sequential average revenue growth of 3.4 per cent (in dollar terms) in the June quarter as against 1.9 per cent sequential growth in the March quarter.
However, Infosys is likely to lag its peers with 2.2 per cent sequential revenue growth, Nomura estimates. TCS, with 4.5 per cent sequential growth, and HCL Tech and Tech Mahindra, with 3.5 per cent sequential rise in dollar revenues, may lead Infosys, Nomura adds. Wipro may grow at just 1.2 per cent, it added.
Harit Shah of Nirmal Bang says Infosys may grow lower than peers owing to challenges faced in specific accounts.
Infosys, once the bellwether among Indian IT firms, has lagged the IT industry over the last few years. For 2014-15 fiscal, it expects to grow at 9 per cent as against industry growth average of 13-15 per cent. Analysts have blamed Infosys' underperformance on its weakness to win new deals or mine existing clients because of its misplaced focus on products, platforms and consulting business (dubbed Infosys 3.0) at the cost of large "bread and butter" outsourcing deals. This led to shrinking market share and declining profitability.
Infosys brought back its cofounder Narayana Murthy in 2013 and under him the outsourcer double revenue growth and increase margins by aggressive cost-cutting in 2013-14 fiscal. But analysts say the company needs a new strategy to win back its bellwether tag. The responsibility to rejuvenate Infosys has been handed over to Vishal Sikka, who will take over as the new CEO August 1. (Read the full story)
Nomura says it will be interesting to watch whether the new Infosys management focuses on increased investments for growth or on margin improvement, which has been one of the core themes under Mr Murthy. Infosys margins have increased by 200 basis points over the last year because of aggressive cost cutting.
For the June quarter, Nirmal Bang expects margins of most IT companies to fall because of a 2.5 per cent average appreciation in the rupee, increased visa costs and wage hike. Nomura expects ebitda margins for tier-1 companies to fall by average 100-200 basis points sequentially.
As a result, most outsourcers are likely to report a fall in net profits in the June quarter. Infosys is likely to register the highest fall, with net profit falling 7 per cent sequentially, followed by Wipro (5.9 per cent), TCS (5.4 per cent) and HCL Tech (1.4 per cent), Nirmal Bang says.
Commentary on: 1) demand strength at the start of the year; 2) performance in troubled verticals like hi-tech/retail; and 3) discretionary outlook will be closely tracked, Nomura says.