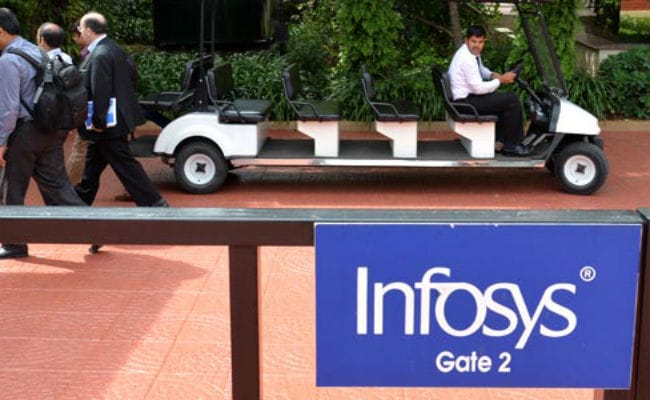 Infosys' net profit in the January-March quarter rose 13 per cent to Rs 4,074 crore compared with Rs 3,609 crore in the previous quarter, the company said on Friday. Strong growth in the financial services segment and large deal wins boosted the profitability for the IT major. Infosys net profit in March quarter surpassed Street estimates of Rs 3,956 crore, news agency Reuters reported citing Refinitiv Eikon data. Its revenue advanced 0.65 per cent sequentially to Rs 21,539 crore, from Rs 21,400 crore in the quarter ended December 31, the country's second largest information technology company said in a regulatory filing.
For the financial year 2019-20, Infosys has guided for a revenue growth in range of 7.5-9.5 per cent in constant currency terms with an operating margin of 21-23 per cent, said the Bengaluru-based IT firm.
The board of directors of the company approved a final dividend of Rs 10.50 per share subject to approval of the shareholders.
Infosys' board of directors also granted performance-based Restricted Stock Units (RSUs) amounting to Rs 13 crore to CEO Salil Parekh for the financial year 2020 under the 2015 Stock Incentive Compensation Plan (2015 plan), the company said.
The company's revenue rose 2.4 per cent (QoQ) to $3,060 million in dollar terms, and on the constant currency terms, Infosys revenue grew 2.1 per cent sequentially.
On the operational front, Infosys' EBIT or operating profit came in at Rs 4,618 crore compared with Rs 4,379 crore in the December quarter.
Commenting on the earnings Salil Parekh, CEO and MD of Infosys said: "We have completed the first year of our transformation journey with strong results on multiple dimensions including revenue growth, performance of our digital portfolio, large deal wins, and client metrics. This is a reflection of our increased client relevance stemming from our focus on digital, positioning, and longstanding client relationships."
"Our planned investments have started yielding benefits. As we look ahead into fiscal 2020, we plan to deploy various measures of operational efficiencies across the business," Mr Parekh added.
Revenue from operations grew 19.1 per cent, while revenue from the financial services segment increased 15.6 per cent. Its digital revenue jumped 41.1 per cent to $1.04 billion, which accounted for 33.8 percent of total revenue, Infosys said.
In the March quarter, Infosys signed large deals worth $1.57 billion and for the financial year 2019 total large deals stood at $6.28 billion.
"We had another quarter of over $1.5 bn large deal TCV (total contract value) in Q4, as a result of which FY 19 TCV doubled over FY 18. Realization per billed employee was steady which reflects increasing usage of automation in core services and faster growth in newer digital services", said Pravin Rao, Infosys COO.
"Overall attrition remains high and we are continuing our focus on arresting the same," Mr Rao added.
Its attrition stood at 11,581 employees in the March quarter. Net addition was at 2,622 in the fiscal fourth quarter, compared with 7,762 in the previous quarter, Infosys said.
For financial year 2019-20, Infosys guided for revenue growth in the range of 7.5-9.5 per cent in constant currency terms with operating margin guidance in range of 21-23 per cent.
For the financial year 2018-19, Infosys net profit declined 3.89 per cent to Rs 15,404 crore from Rs 16,029 crore in financial year 2017-18.
In FY19 revenue grew by 7.9 per cent dollar terms and 9 per cent in constant currency terms, while operating margin came in at 22.8 per cent.