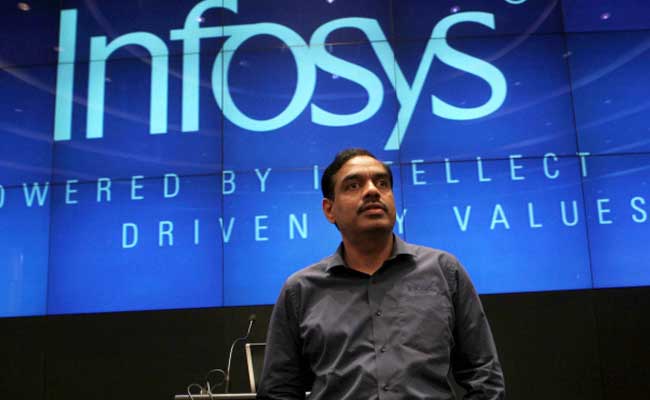 Highlights
V Balakrishnan says the Infosys board should be reconstituted
Narayana Murthy had also expressed concern over 'governance standards'
Mr Murthy had stepped down as executive chairman of Infosys in 2014
IT major Infosys has denied governance lapses alleged by three founders, including NR Narayana Murthy, but former Infosys chief finance officer V Balakrishnan has said that chairman R Seshasayee must resign. "Communication between important shareholders and the board has broken down. The chairman should step down; have an interim chairman, the board should be reconstituted and all concerns should be addressed," Mr Balakrishnan told NDTV. The controversy is built around a hike in pay for the company's CEO Vishal Sikka's and a severance package given to two former top executives. Mr Seshasayee has backed Mr Sikka, saying the company is "fully aligned" with his "strategic direction."
Here are 10 developments:
Mr Murthy, along with co-founders Kris Gopalakrishnan and Nandan Nilekani, had reportedly written to the Infosys board in January questioning the hike in CEO Vishal Sikka's salary and severance packages for the other executives. The Infosys founders along with family members owned 12.75 per cent of the company as of end-December, according to stock exchange data.

Mr Narayana Murthy has expressed concern in strong words over the "drop in governance standards" at the firm he founded in 1981. "Providing huge severance pay (with 100% variable) to some departing employees while giving only 80% variable for employees in the company is one such example. Such payments raise doubts whether the company is using such payments as hush money to hide something." he told the Economic Times.

Mr Balakrishnan echoed Mr Murthy when he said, "Many of us have handled the position and much more sensitive data but nobody was paid like this. When you pay huge severance money there is a suspicion that it's to hush up something."

Infosys had last year raised the annual compensation of Vishal Sikka, whose term has been extended till 2021, to $11 million (Rs 74 crore), which includes variable pay subject to achievement of certain performance-based targets. Mr Sikka, 49, took over as CEO in 2014.

Former chief financial officer Rajiv Bansal's severance package amounted to Rs 17.38 crore, or 24 month's pay, Infosys had said in a statement last year. In a January filing with the US market regulator, Infosys, which is also listed on the Nasdaq, said former general counsel David Kennedy would receive severance payments of $868,250 (Rs 5.8 crore) and other reimbursements over 12 months.

Another former CFO TV Mohandas Pai too has backed the founders. "The founders who have built the company and created a value system have raised serious issues. As far as I know, no CFO in India has got a 24-month separation," said the former Infosys board member.

Infosys yesterday denied "any governance lapses alleged by some sections of the media in reports that have appeared in the last few days on purported rifts among the founders, the board and the management." The company said it had already explained its position on the CEO's pay package and severance, which it described as "issues that are several months old."

Infosys said that while "there could be differences in views on these matters, they have been overwhelmingly approved by shareholders, wherever required, and on which due disclosures have been made." It also emphasised the board's autonomy and said its members were professionals with a vast experience.

Board member Kiran Mazumdar-Shaw, who is also the chief of Biocon, told NDTV that these issues "have been raised in the past. We thought it was behind us. Time will heal these differences, has nothing to do with governance breaches per se."

Vishal Sikka has asked employees not to get distracted by speculations that question the company's commitment to "governance, integrity and values". Mr Sikka asked them to keep a sharp focus on executing the company's strategy.