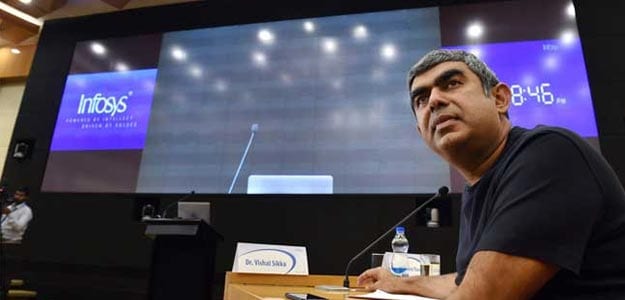 Highlights
Infosys shares suffered biggest single-day decline since Sikka took over
Infosys cut its outlook for revenue growth this fiscal year
The reduced outlook came after its Q1 revenue lagged expectations
Infosys Ltd. slashed its annual sales forecast, sending its shares down by the most in a single day since Vishal Sikka took the helm of Asia's second-largest software services exporter.
The reduced outlook came after Infosys reported first-quarter revenue that lagged expectations. Since grabbing the reins in August 2014, the Stanford alumnus had presided over a 40 percent surge in Infosys' value. Under his stewardship, the company missed analysts' top-line expectations only one other time -- in the March quarter of 2015.
Infosys, a barometer for the health of the $3 trillion global enterprise spending market, cut its outlook for revenue growth this fiscal year to as low as 10.8 percent from a previous floor of 11.8 percent. Its stock had tumbled 8.8 percent at the close of Mumbai trading, the steepest decline since April 2013.
The surprise move comes as Infosys and its rivals grapple with a fundamental shift in the way businesses use and buy technology. The proliferation of customizable internet-based software is eroding appetite for the sort of outsourcing that their industry specializes in. More broadly, economic uncertainty around Britain's decision to depart the European Union and China's slowdown is forcing corporations and government agencies alike to tighten their belts.
"It takes time to transform a company of Infosys' size," said Thomas George, a Bangalore-based senior vice president at CyberMedia Research. "Dr. Sikka is working on a long term goal of transforming Infosys from a typical IT service company into a new-age digitally focused consulting company."
It's a rare disappointment for Sikka, one of the first external CEOs for a company whose founders had taken turns to hold the reins over three decades. The software entrepreneur was brought in from SAP and based in Silicon Valley to be closer to clients and drive innovation. Rivals like Wipro Ltd. have since followed suit, dispatching company leaders to the U.S.
Sikka is a big believer in transforming Infosys' sales culture through what he called "design thinking," or thinking creatively and holistically about solutions for clients rather than pushing stock services. He spearheaded investments in areas from cloud computing and mobile to social media and data analytics.
But he's fighting larger forces to some extent beyond his control. Worldwide IT spending is forecast to be flat in 2016, according to Gartner Inc. Businesses looking to save are turning to technology such as internet-based software, eschewing the traditional options that Infosys provides.
"The numbers are disappointing and they are going to face a challenge getting back to the driver's seat in the remaining three quarters," George said. "It's not a very encouraging future guidance and we can't even write this off as a one-off weak performance."
Sikka has also long been credited with helping Infosys outshine larger rival Tata Consultancy Services. On Thursday, Infosys' arch-foe reported quarterly sales that beat analysts' estimates. A day later, Infosys reported revenue of 167.8 billion rupees ($2.5 billion) in the period, falling short of projections for 170.3 billion rupees.
"Global IT spending growth is best described as lackluster," John-David Lovelock, a research vice-president at Gartner, said before results were released. "It is precisely this new breadth of alternatives to traditional IT that will fundamentally reshape what is bought, who buys it and how much will be spent."
@ 2016 Bloomberg L.P.
(Except for the headline, this story has not been edited by NDTV staff and is published from a syndicated feed.)