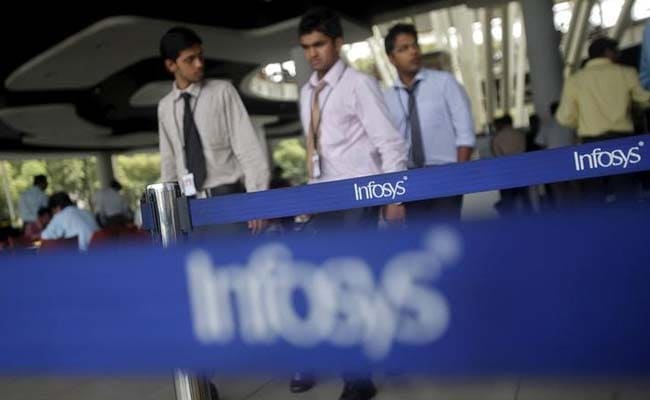 Highlights
Founders like Narayana Murthy allege lapses in corporate governance
Questions over pay for CEO Vishal Sikka, severance pay for executives
Infosys backs Sikka, says it has complete confidence in him
Infosys, India's second biggest software services exporter, has firmly backed its Chief Executive, Vishal Sikka, downplaying an alleged rift between the firm's board and its founders, who include NR Narayana Murthy and refuting allegations of governance lapses. Mr Sikka has the complete confidence of the board, it said, amid questions over his raise. Infosys founders along with their family members owned 12.75 per cent of the company as of end-December, according to stock exchange data, and law firm Cyril Amarchand Mangaldas is now mediating between them and the board.
Here are the 10 latest developments in this story:
In an interview to the Economic Times, Mr Murthy, who is 70, questioned large severance packages to departing employees and spoke of "a concerning drop in governance standards at Infosys."

Of the large financial deals given to exiting senior employees, he said, they "raise doubts whether the company is using such payments as hush money to hide something."

In its first detailed statement about the various concerns raised last month reportedly by three founders - Mr Murthy, Kris Gopalakishnan and Nandan Nilekani - Infosys said on Thursday that "the board is fully aligned with the strategic direction of Dr. Vishal Sikka and is very appreciative of the initiatives taken by him in pursuance of this transformation." The statement was issued by R Seshasayee, Infosys board chairman.

The founders' objections included concerns about executive pay including a raise for Mr Sikka, who became CEO in 2014. Last year, his annual compensation (including variable components) was raised by over 50 per cent to $11 million (Rs 74 crore) from $7 million (Rs 47 crore).

The IT company said its founders and board could have differing views on issues such as Mr Sikka's compensation, the appointment of certain independent directors and the severance paid to former employees but all decisions were taken with the approval of shareholders and the necessary disclosures.

The board said it is open to suggestions from various stakeholders, including founders, but "is committed to fulfilling its fiduciary responsibility to act independently and in the overall interest of the shareholders".

Kiran Mazumdar-Shaw, an independent director, said it's incorrect to equate the current developments at Infosys with the allegations of lapses in corporate governance at the Tata Group, whose former chairman Cyrus Mistry was abruptly sacked by the $100-billion conglomerate in October last year. "As far as the board is concerned, we certainly want to make sure Sikka and his management team really focus on growing and transforming Infosys," she told NDTV, stressing, "it's in everyone's best interest to move forward."

Infosys said it has recently appointed corporate governance experts to receive and assess input from various stakeholders and make recommendations to the board.

Former Chief Financial Officer Rajiv Bansal's severance package amounted to Rs 17.38 crore ($2.58 million), or 24 month's pay, Infosys said in a statement last year. In a January filing with the US market regulator, Infosys, which is also listed on Nasdaq, said former general counsel David Kennedy would receive severance payments of Rs 5.8 crore or $868,250 and other reimbursements over 12 months.

Calling for the resignation of chairman R Seshasayee, former Chief Financial Officer V Balakrishnan said communication between important shareholders and the board has broken down and the board should be reconstituted and all concerns should be addressed.
Post a comment