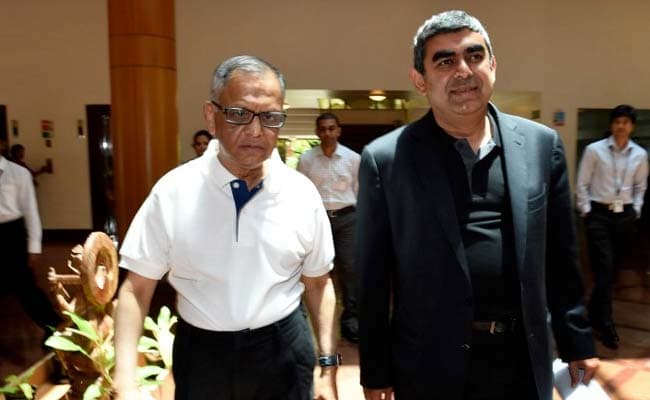 Highlights
Infosys said it is fully aligned with the strategic direction of Sikka
Infosys also emphasised the board's autonomy
Founders along with their family members own 12.75% of Infosys
Infosys on Thursday backed CEO Vishal Sikka
, with chairman of the board, R. Seshasayee, saying that it is "fully aligned with the strategic direction of Dr. Vishal Sikka and is very appreciative of the initiatives taken by him in pursuance of this transformation." The company's statement comes in the wake of reports alleging rift between the firm's founders and its board. In its first detailed statement about the various concerns raised by its founders, Infosys denied "any governance lapses alleged by some sections of the media in reports that have appeared in the last few days on purported rifts among the founders, the board and the management."
According to a report, three founders of the company -
NR Narayana Murthy, Kris Gopalakrishnan and Nandan Nilekani
- wrote to the board expressing concerns about CEO Vishal Sikka's pay rise and the severance package offered to two former officials. Infosys founders along with their family members owned 12.75 per cent of the company as of end-December, according to stock exchange data.
Infosys said the issues of "
CEO compensation, appointment of certain independent directors, and severance pay relating to former employees
- are several months old, on which the company's position has been repeatedly explained."
"While there could be differences in views on these matters, they have been overwhelmingly approved by shareholders, wherever required, and on which due disclosures have been made," the company added.
Infosys emphasised the board's autonomy and said its members were professionals with a vast experience. "The company has an independent and professional board, whose members possess vast experience. The independent directors have no interest other than their commitment to enable this great institution that has been assiduously built by the iconic founders, to succeed," it said.
Backing CEO Vishal Sikka, Infosys chairman R. Seshasayee said, "Vishal Sikka and the board, while being pleased with the company's resumption of industry leading performance on many parameters, are keen to further accelerate the progress and achieve even more shareholder value increase, on the foundation of sound governance. We will remain undistracted with this focus."
Infosys said while its board "appreciates and respects inputs from the founders, it is committed to fulfilling its fiduciary responsibility to act independently and in the overall interest of the shareholders."
To formalize this process, Infosys said its board "has recently appointed Cyril Amarchand Mangaldas, corporate governance experts, to receive from
promoters and other key stakeholders
various inputs, evaluate them and make recommendations to the Board. This will be an ongoing process for some time."
Meanwhile chief executive
Vishal Sikka has asked employees
not to get distracted by speculations that question the company's commitment to "governance, integrity and values". Mr Sikka asked them to keep a "sharp focus" on executing the company's strategy.