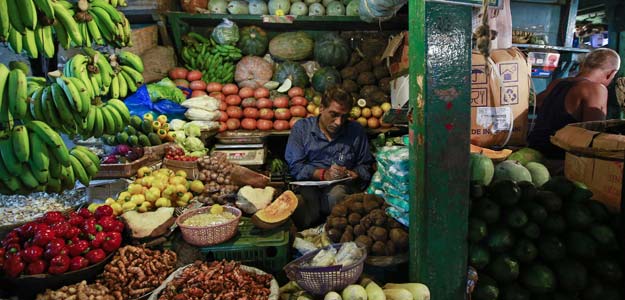 Bengaluru: Food prices probably fueled a sharp rise in retail inflation in December after the record low struck the previous month, according to a Reuters poll, weighing against chances of an early interest rate cut by the Reserve Bank of India (RBI).

More optimistically for an economy struggling to recover from its weakest growth levels in a quarter century, the survey of 25 analysts showed industrial output bounced back to growth in November after factories had their worst month in three years in October.

The median forecast for the consumer price index showed retail inflation accelerating to 5.4 per cent in December from 4.4 per cent in November.

Consumer Prices Index or CPI and industrial output data are due to be released on Monday.


Wholesale price inflation, which was flat in November, is expected to have picked up to 0.6 per cent last month. The WPI data is set to be released on January 14.
Inflation has rapidly cooled in India following a spectacular drop in global crude oil prices, softer food costs and favourable base effects from previous reporting periods.
"With markets pushing for the central bank to lower rates, the release (of CPI) is likely to temper expectations of an imminent start in the rate cutting cycle as fading base effects lift inflation," said Radhika Rao, economist at DBS.
The RBI has targeted 6 per cent inflation by January 2016 and indicated that if the target is met it would shift to a 4 per cent goal over the longer term.
The RBI holds its next rate review in early February, while Finance Minister Arun Jaitley presents India's 2015-16 Budget later that month.
And though inflation trends are crucial to any decision to lower rates, the apex bank would also want to take into account whether Mr Jaitley resists temptation to row back on targets to reduce the fiscal deficit.
Industrial output enjoyed a turnaround without the aid of a rate cut, with the poll forecasting year-on-year growth of 2.2 per cent in November, but analysts said output growth was still weak, and factories have plenty of spare capacity.
Data released last week showed output in eight core industries, which account for over a third of overall factory output, increased to a five-month high in November driven by higher production of cement and refinery products.
Despite this, overall factory growth is stuttering, and according to Shilan Shah, senior economist at Capital Economics, one to two percent growth is 'still a pretty poor performance'.
"The industry remains really weak and it seems unlikely that it is going to stage a big recovery unless there are wide ranging reforms", he said.
Copyright @ Thomson Reuters 2015