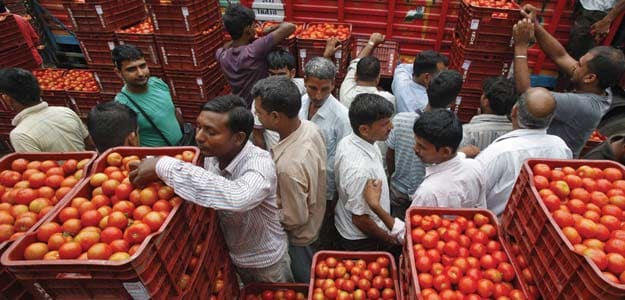 New Delhi: In a big boost to the Narendra Modi government, wholesale price inflation eased to a near five-year low of 3.74 per cent in August. A sharp fall in food and fuel prices and favourable base effect helped cool inflation, data shows.
High prices were a big factor for the rout of the Congress-led UPA in the elections held in May. PM Modi's government has consistently said that tackling high food prices is its top priority. (Read: Food Inflation Top Priority, Says Jaitley)
Food prices cooled off sharply on the back of a drastic fall in vegetable prices including onions, which dropped nearly 45 per cent year-on-year. As a result, food inflation eased to 5.15 per cent against 8.43 per cent in July.
Fuel prices also came off sharply tracking a fall in global Brent crude prices, which is now trading at a two-year low. Petrol prices were cut thrice in August, helping bring down fuel inflation to 4.54 per cent in August against 7.40 per cent in July.
Analysts expect fuel inflation to cool further if the government cuts diesel prices today. There are expectations that diesel prices may be cut for the first time in seven years on Monday as under-recoveries on selling diesel at below market cost have nearly disappeared. (Read: Diesel Prices May be Cut amid Sharp Correction in Brent Crude)
The sharp drop in wholesale inflation comes just ahead of the Reserve Bank's scheduled policy meet on September 30 and raises expectations of a rate cut, which will bring down interest rate on auto and home loans. (Read: Inflation on Target but Investment Needs to Pick Up: Rajan)
But analysts do not expect the central bank to cut interest rates just yet. That's because the central bank uses the consumer price inflation to set interest rates. (Read: RBI Chief Says Need to Lower Inflation Before Cutting Rates)
Though consumer or retail inflation also edged down to 7.8 per cent in August from 7.96 per cent a month earlier last week, they are still hovering around the Reserve Bank's inflation target of 8 per cent by January 2015.
"Retail inflation is the main barometer for policy decisions and unless that tapers off towards the January 2016 target at 6 per cent, rate cuts are unlikely to be in the picture," said Radhika Rao, economist at DBS bank in Singapore.


There are counter-forces to consider as well. Aside from prospects of a pickup in domestic consumption stoking price pressures, there was also the possibility that imported goods could become more expensive if the rupee weakens against the dollar, due to expectations that the US Federal Reserve could raise interest rates sooner-than-expected.
RBI chief Raghuram Rajan has said falling oil prices could be a "temporary phenomenon", and there are risks that prices could flare up again due to geopolitical tensions in the Middle East or Ukraine.
The Sensex fell 0.9 per cent, or 244.48 points, to end at 26,816.56, while the broader Nifty lost 0.78 per cent, or 63.50 points, to end at 8,042.
(With Reuters Inputs)