In order to cash in on the festive season rush during Diwali, budget carrier IndiGo is offering fares starting at Rs. 1,235 on select flights. This a special festive offer which is valid till October 25, 2017. The travel period for which IndiGo's festive season sale is valid is between 1st November 2017 and 31st March, 2018. The offer is valid only on select non-stop flights from Ahmedabad, Bagdogra, Bengaluru, Chandigarh, Chennai, Coimbatore, Delhi, Guwahati, Kolkata, Mangalore, Mumbai, Thiruvananthapuram and Udaipur, said the company on its website goindigo.in. This offer is subject to availability, it said adding, that the sale is applicable on all its booking channels.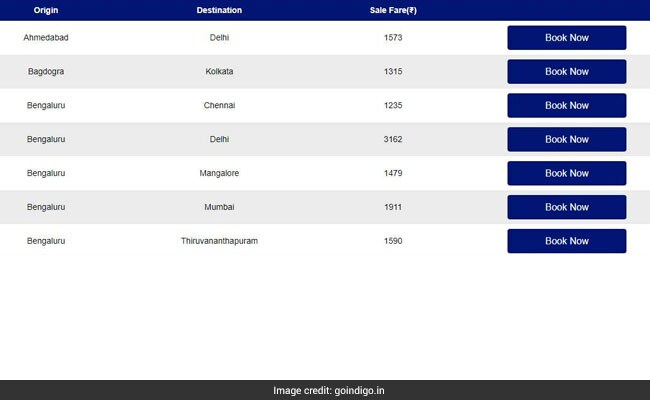 IndiGo fares from metro cities start from Rs 1,120:
IndiGo is also offering fares as low as Rs 1,120 on select routes, a search on the company website showed. The search on IndiGo's website for select routes via metro cities - New Delhi, Mumbai, Kolkata and Chennai - showed low fares.
The search also showed that fares on Delhi-Jaipur and Mumbai-Ahmedabad routes between November 14 and November 21 were stable. (See below)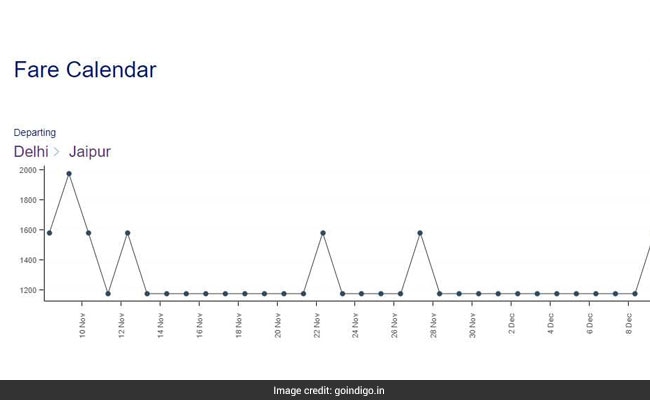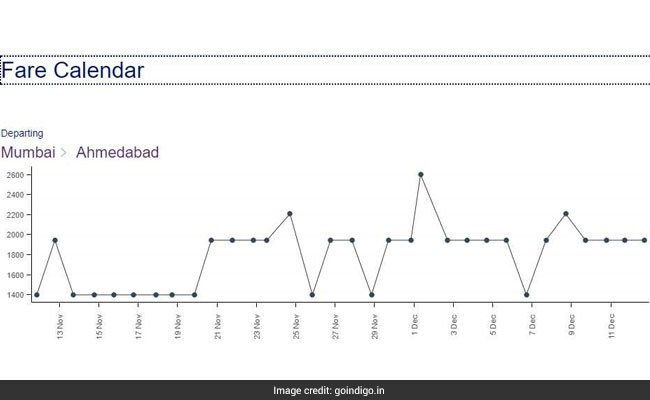 Some of the other low fares that IndiGo is offering:
Delhi-Jaipur (starting at Rs 1,178), Delhi-Ahmedabad (Rs 1,425), Delhi-Lucknow (starting at Rs 1,452), Delhi-Mumbai (starting at Rs 2,047), Delhi-Indore (starting at Rs 2,240), Delhi-Varanasi (starting at Rs 2,502), Delhi-Bengaluru (starting at Rs 2,838)


Mumbai-Hyderabad (starting at Rs 1,419), Mumbai-Ahmedabad (starting at Rs 1,451), Mumbai-Vadodara (starting at Rs 1,835), Mumbai-Bengaluru (starting at Rs 2,157), Mumbai-Chennai (starting at Rs 2,170), Mumbai-Goa (starting at Rs 2,190), Mumbai-Delhi (starting at Rs 2,399), Mumbai-Srinagar (starting at Rs 6,003)


Kolkata-Bagdogra (starting at Rs 1,499), Kolkata-Delhi (starting at Rs 3,019), Kolkata-Jaipur (starting at Rs 3,301), Kolkata-Bengaluru (starting at Rs 3,439), Kolkata-Varanasi (starting at Rs 3,492), Kolkata-Chennai (starting at Rs 3,534), Kolkata-Mumbai (starting at Rs 3,543), Kolkata-Ahmedabad (starting at Rs 3,650)


Chennai-Bengaluru (starting at Rs 1,120), Chennai-Coimbatore (starting at Rs 1,320), Chennai-Mumbai (starting at Rs 1,856), Chennai-Pune (starting at Rs 1,971), Chennai-Ahmedabad (starting at Rs 2,418), Chennai-Kolkata (starting at Rs 2,873), Chennai-Delhi (starting at Rs 3,396)