Highlights
IndiGo offers all-inclusive Rs 1,174 tickets for select one-way flights
Tickets start at Rs 1,178 for flights from Delhi to Jaipur
Strong competition in Indian aviation market amid robust passenger growth
IndiGo is offering all-inclusive tickets starting at Rs 1,174 on select one-way flights on its domestic network. The starting fare of Rs 1,174 is being offered on flights on the Chennai-Bengaluru route, according to IndiGo's website - goindigo.in. Strong competition and robust passenger growth in the aviation section has led many carriers to offer discounted airfares. Some of the other starting all-inclusive fares being offered by IndiGo included Rs 1,178 for flights from Delhi to Jaipur; Rs 1,220 for Jammu to Srinagar; Rs 1583 for Srinagar to Jammu; Rs 1,592 for Chandigarh to Delhi, and Rs 1,597 for Lucknow to Delhi, according to the airline's website.
A search on the IndiGo bookings portal on Thursday showed tickets for select flights from Chennai to Bengaluru in October and November were available for booking at Rs 1,174.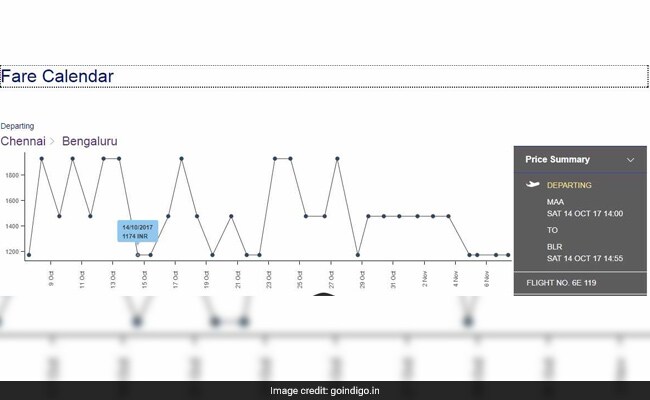 (A screenshot from IndiGo's bookings portal)
The price of Rs 1,174 offered by IndiGo includes regular fare of Rs 210, fuel charge of Rs 525 and GST (Goods and Services Tax) of Rs 40, the portal showed.
(The Rs 1,174 tickets include regular fare of Rs 210, according to the IndiGo bookings portal)
"An additional, non-refundable convenience fee of INR 200 per passenger per sector will be levied on all online payments made through Net Banking/ Credit Cards/Debit Cards (or SGD 10/AED 20/THB 105/OMR 2/NPR 320/USD 10/QAR 20)," IndiGo added.
IndiGo has also announced a new service that enables its passengers arriving at airports earlier than their flight schedule to board the earliest flight at Rs.1,000. Called 'IndiGo Early', the service offered by the airline is applicable to "all passengers travelling on a domestic flight, wanting to prepone their flight (within 4 hours)", the website noted.
Amid heightened competition in the aviation sector, many airlines have time and again offered discounts and attractive fares. In June, domestic air passenger traffic rose 19.98 per cent to 95.68 lakh, as compared to 79.75 lakh in June 2016, data from aviation regulator DGCA (Directorate General of Civil Aviation) showed.