Amid high competition and robust passenger traffic growth, IndiGo is offering all-inclusive flight tickets starting at Rs 1,112 on select routes. Select flights from Jammu to Srinagar next month were available for booking from Rs 1,112, according to the airline's website - goindigo.in. The airline was also offering flights from Coimbatore to Chennai starting at Rs 1,195, from Visakhapatnam to Hyderabad at Rs 1,259, from Patna to Kolkata at Rs 1,264 and from Bengaluru to Chennai at Rs 1,285, according to its website.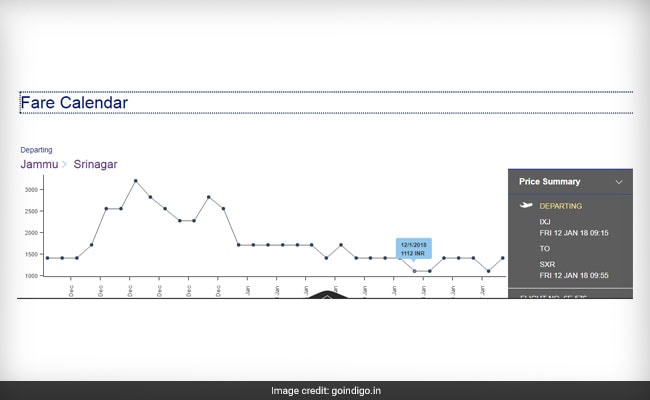 (IndiGo fares on the Jammu-Srinagar route, as given on its website - goindigo.in)
A search on the IndiGo bookings portal on Friday showed tickets for flights from Jammu to Srinagar around mid-January were available from a starting price of Rs 1,112, which included a regular fare and fuel charge of Rs 825 and GST of Rs 42.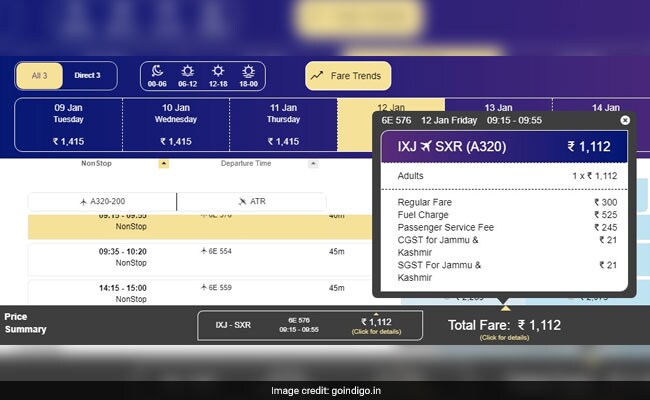 Airlines operating in the domestic market offer discounts around the holiday season around New Year, in their bid to attract passengers during a period marked with high demand, say analysts.
Another airline AirAsia India is offering up to 40 per cent off on select flights in a limited-period promotional scheme. The AirAsia India offer requires flyers to make advanced bookings and discounts are subject to availability and on selected flights only, the airline noted. The offer is available on travel between January 15, 2018 and April 25, 2018 and bookings are open till December 3, 2017, according to its website - airasia.com.
Domestic airlines carried 954.45 lakh passengers in the first 10 months of 2017 (January-October), as against 813.70 lakh in the corresponding period of the previous year, registering a growth of 17.30 per cent, according to data from aviation regulator DGCA (Directorate General of Civil Aviation).
Global rating agency Moody's Investors Service expects the annual air traffic growth in India to moderate to 8-10 per cent over the next two years. Moody's said that major airports in India have been registering a strong rise in passenger traffic - which has recorded two years of 20 per cent-plus growth. Rising middle class, lower air ticket prices and improving regional connectivity have been the main drivers for the growth, the agency noted.
(With agency inputs)
(Except for the headline, this story has not been edited by NDTV staff and is published from a syndicated feed.)