In order to tap the Diwali fervour, airlines are offering many discounted fares toflyers. IndiGo is offering all-inclusive fares starting at Rs 1,099 on select routes, according to the airline's website - goindigo.in. Some of the other discounted all-inclusive fares start at Rs 1,099 for flights from Delhi to Jaipur, Rs 1,120 for Chennai to Bengaluru, Rs 1,168 for Jammu to Srinagar, Rs 1,212 for Bhubaneswar to Kolkata, and Rs 1,120 for Chennai to Bengaluru, according to the IndiGo website.
A search on the IndiGo bookings portal showed tickets for a journey from Delhi to Jaipur next week were available from Rs 1,099.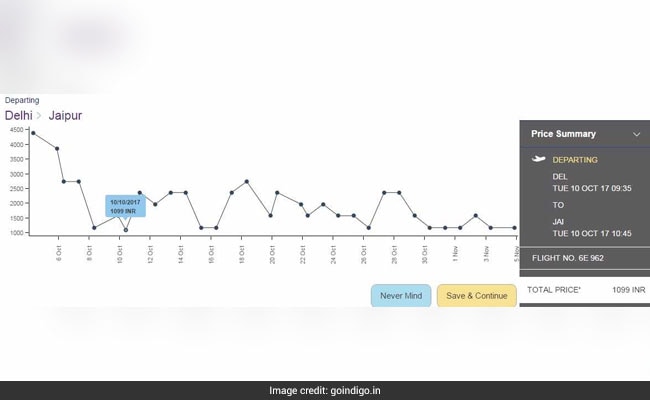 (Tickets for a journey from Delhi to Jaipur started at Rs 1,099, according to the IndiGo bookings portal)
Some other all-inclusive fares offered by IndiGo started at Rs 1,212 for flights from Agartala to Guwahati, Rs 1,249 for Visakhapatnam-Hyderabad, Rs 1,265 for Patna-Kolkata, Rs 1,268 for Coimbatore-Chennai, Rs 1,285 for Bengaluru-Chennai and Rs 1,304 for those from Bagdogra to Guwahati.

IndiGo also runs a special offer every Tuesday. Under #6ETakeoffTuesday offer, flyers booking tickets between noon and 6 pm on Tuesdays get service vouchers worth Rs 300 on a return journey, the airline said on its portal.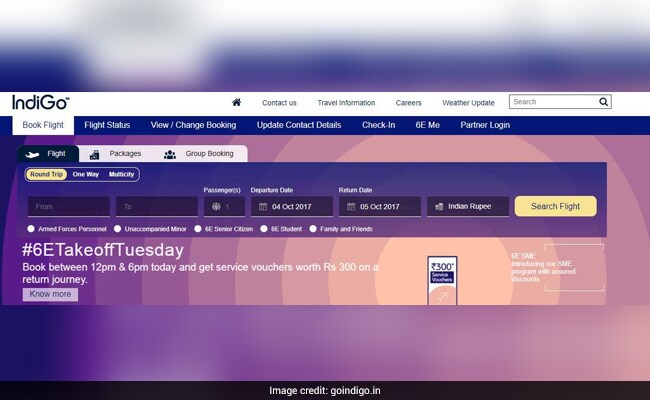 Recently, IndiGo announced
six new daily non-stop flights
across different domestic routes. The fares for the new flights start from Rs. 1,216 (applicable for the Srinagar-Amritsar route). IndiGo took to microblogging site Twitter to announce the six new flights saying: "Introducing more #6Eness :D". The other five routes are Bengaluru-Amritsar (Rs. 3,734), Amritsar-Bengaluru (Rs. 3,945), Amritsar-Srinagar (Rs. 1,445), Mumbai-Mangalore (Rs. 2,243) and Mangalore-Mumbai (Rs. 2,185). The airline currently operates with a fleet of 140 aircraft.
Another airline
AirAsia India
has also launched a discounted fares scheme, aimed towards travellers planning their year-end holidays. AirAsia is offering customers tickets at a starting price of Rs. 1,299 for domestic travel and Rs. 2,399 for international flights. Bookings for this AirAsia India offer opened on October 2 and will remain open till October 15. The AirAsia year-end sale is applicable for travel between October 2 and March 31. The destinations covered under this AirAsia India's special offer include Bengaluru, Ranchi, Hyderabad, Pune, Kolkata, Kochi and New Delhi.
Get Breaking news, live coverage, and Latest News from India and around the world on NDTV.com. Catch all the Live TV action on NDTV 24x7 and NDTV India. Like us on Facebook or follow us on Twitter and Instagram for latest news and live news updates.