Amid high competition among airlines operating in the Indian market, IndiGo is offering tickets starting at Rs 1,005 on select flights. IndiGo is offering all-inclusive tickets on select flights from Bagdogra to Guwahati from Rs 1,005, according to its website - goindigo.in. IndiGo is also offering tickets starting at Rs 1,112 on flights from Jammu to Srinagar, Rs 1,131 on flights from Agartala to Guwahati and Rs 1,195 on those from Coimbatore to Chennai, according to the IndiGo bookings portal.
A search on the IndiGo portal on Thursday showed tickets for flights from Bagdogra to Guwahati early next year were available for booking from Rs 1,005.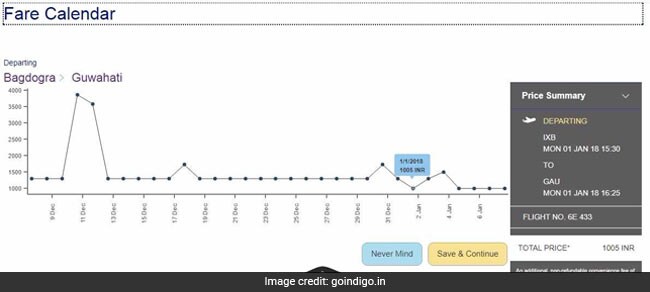 The ticket price of Rs 1,005 included a regular fare of Rs 235 and a fuel charge of Rs 525, according to the IndiGo portal.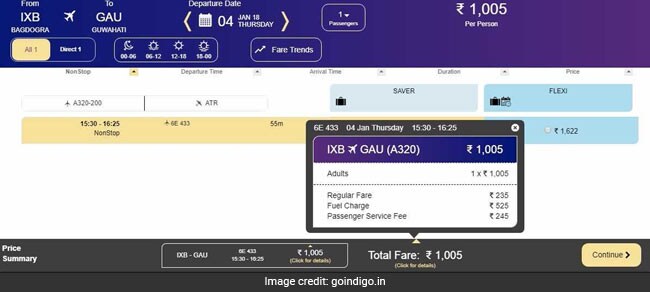 Flights from Jammu to Srinagar around mid-January were available for booking at Rs 1,112, the IndiGo portal showed.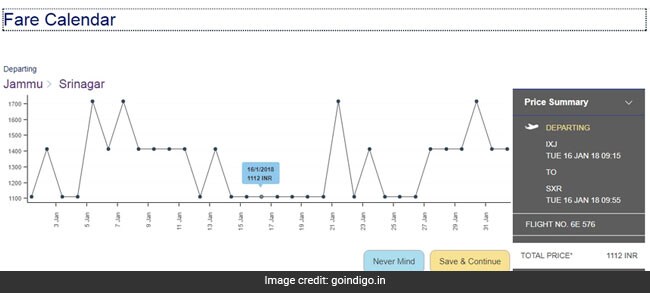 Airlines operating in the domestic market offer discounts around the holiday season to attract passengers during a period marked with high demand, say analysts.
According to rating agency Icra, domestic passenger traffic growth moderated to 16.3 per cent in the first half of financial year 2018, after having grown at above 20 per cent over the last two years. Though the aviation turbine fuel (ATF) prices remained higher during the first half on a year-on-year basis, the ability of the airlines to pass-on the same supported the profitability of the industry during H1 FY2018, Icra noted.
Going forward, strong demand during the peak season is expected to support the industry profitability in the second half of FY2018, the domestic credit ratings agency added.
Domestic airlines carried 954.45 lakh passengers in the first 10 months of 2017 (January-October), as against 813.70 lakh in the corresponding period of the previous year, registering a growth of 17.30 per cent, according to data from aviation regulator DGCA (Directorate General of Civil Aviation).
Get Breaking news, live coverage, and Latest News from India and around the world on NDTV.com. Catch all the Live TV action on NDTV 24x7 and NDTV India. Like us on Facebook or follow us on Twitter and Instagram for latest news and live news updates.