IndiGo airline is offering fares worth as low as Rs 1,005 on select routes, according to a search on its website, goindigo.in. The low fares are applicable on routes like Jammu to Srinagar, Bagdogra to Guwahati, Coimbatore to Chennai, Kochi to Chennai, Vishakhapatnam to Hyderabad, Patna to Kolkata, Agartala to Kolkata, Bengaluru to Chennai, Chennai to Coimbatore, and Guwahati to Bagdogra. In a separate offer, the IndiGo is also offering a 15 per cent off on bookings on The Lalit group of hotels.

IndiGo flight ticket offer
If you book a flight on Bagdogra to Guwahati route, the fares are as low as Rs 1,005.
According to a search on IndiGo's website, fares for Bagdogra to Guwahati route are flat between January 5, 2018 to January 31, 2018.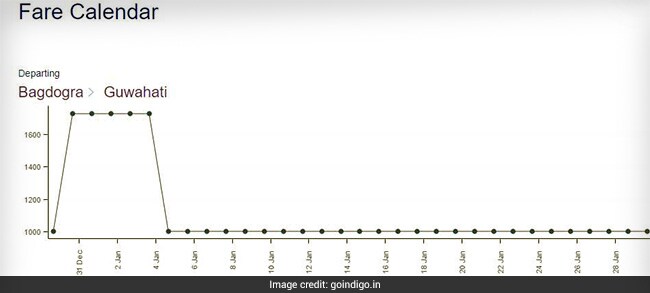 Fare on Jammu-Srinagar route are available for Rs 1,112.


Coimbatore to Chennai IndiGo flights are available for Rs 1,195.

Conditions:
An additional non-refundable convenience fee of Rs 200 per passenger per sector will be levied on all online payments made through net banking , credit and debit cards, said IndiGo.

IndiGo offer on The Lalit Hotels
#6ETakeoffTuesday is here! Book between 12pm – 6pm today and get 15% off on @TheLalitGroup Hotels. T&Cs apply. https://t.co/3hvHNXw8zupic.twitter.com/OZ7Cax9fz9
— IndiGo (@IndiGo6E) December 5, 2017

During the #6TakeOffTuesday offer, IndiGo has a special offer on The Lalit group of hotels. Customers who book an IndiGo flight get 15 per cent off on the Lalit hotels, the airline tweeted from its official Twitter handle, @IndiGo6E. Under the offer, upon booking IndiGo flights during the promotion period, eligible customers will get 15 per cent discount vouchers redeemable against room stay, spa, food and beverage with The Lalit, except for The Lalit London and The Lalit Srinagar.