IndiGo
, India's largest airline by passenger share, is offering flight tickets starting at Rs 1,005 to lure flyers in the holiday season. According to IndiGo's website - goindigo.in, IndiGo is offering flight tickets at a starting price of Rs 1,005 on flights from Bagdogra to Guwahati. Starting fares on some other routes include Rs 1,095, on flights from Coimbatore to Chennai; Rs 1,112 (Jammu-Srinagar), Rs 1,120 (Chennai-Bengaluru), Rs 1,130 (Agartala-Guwahati), Rs 1,148 (Chennai-Coimbatore), Rs 1,176 (Delhi-Jaipur), Rs 1,212 (Kochi-Chennai), Rs 1,259 (Vizag-Hyderabad) and Rs 1,264 (Patna-Kolkata), according to IndiGo's website.
A check on IndiGo's bookings portal showed tickets for a flight from Delhi to Mumbai in mid-January were being offered from Rs 1,896.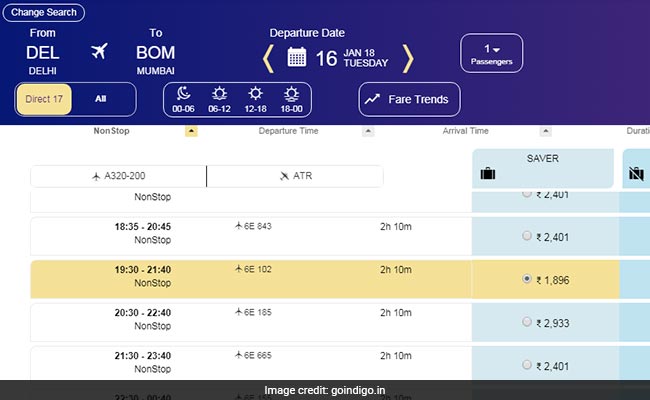 (IndiGo tickets on flights from Delhi to Mumbai were available from Rs 1,896, according to its website)
A check on IndiGo's website showed Rs 1,005 flight tickets on Bagdogra-Guwahati route were available for travel in January.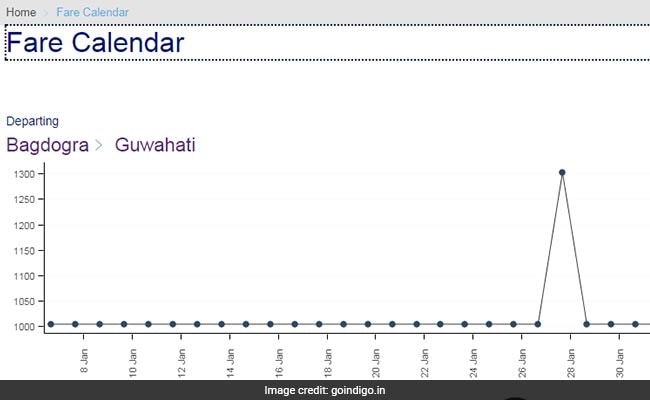 (IndiGo tickets on flights from Bagdogra to Guwahati were available from Rs 1,005, according to its website)
According to the IndiGo website, an "additional, non-refundable convenience fee of Rs 200 per passenger per sector will be levied on all online payments made through Net Banking/ Credit Cards/Debit Cards".
Low airfares have sparked a strong growth in air travel in India. Clocking a high double-digit growth for more than two years, India's domestic aviation market is one of the fastest growing in the world.
Domestic airlines carried 954 lakh passengers during January-October 2017, as against 814 lakh during the corresponding period the previous year, registering a growth of 17.30 per cent.
Meanwhile, IndiGo has said it will launch
new flights on the Lucknow-Sharjah-Lucknow and Hyderabad-Sharjah-Hyderabad sectors
from December 29, 2017. According to the airline, it will also connect Sharjah to Kolkata, Kochi, Goa, Tirupati, Rajahmundry, Patna, Mangalore, Visakhapatnam, Chennai, Raipur and Bhubaneswar through connecting flights.
Get Breaking news, live coverage, and Latest News from India and around the world on NDTV.com. Catch all the Live TV action on NDTV 24x7 and NDTV India. Like us on Facebook or follow us on Twitter and Instagram for latest news and live news updates.