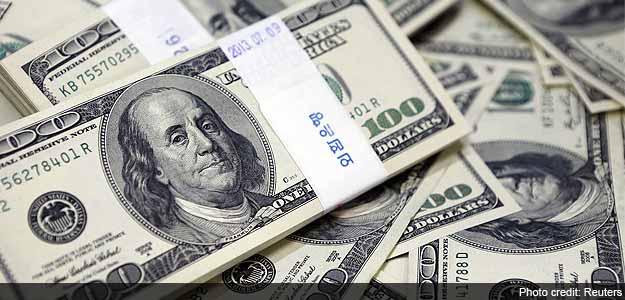 New Delhi: India's trade deficit narrowed for the third straight month in March to $5.07 billion, the lowest in five years, as imports shrank at a faster pace than exports, data showed on Monday.

Although exports for the year ending March were the weakest since 2010/11, down 15.85 percent from a year ago, the narrowing trade gap showed that India - the world's third-largest crude importer - has been a net beneficiary of the collapse in oil prices.

The positive shift in the terms of trade has helped shield India from a slowing global economy and helped it outperform other major emerging economies, its economic growth outpacing China's while Brazil and Russia are contracting.

Yet analysts said prospects for export growth remain bleak, with global trade forecast to expand by just 2.8 percent in 2016 by the World Trade Organisation.

"We expect Indian exports to continue performing poorly in 2016/17 (April-March) due to subdued global economic growth and still-depressed commodity prices," said Chua Han Teng of BMI Research, a unit of rating agency Fitch.

"Additionally, strength of the Indian rupee in real effective exchange rate terms will also have a negative impact on the country's exports," he said.

Merchandise exports contracted 5.5 percent in March from a year earlier to $22.7 billion, data released by the Ministry of Commerce and Industry showed.

For the whole of 2015/16, total exports were down 15.9 percent from a year ago to $261.1 billion. Imports fell 15.3 percent to $379.6 during the same period.


In Asia, China's exports returned to growth in March for the first time in nine months, another sign of stabilisation in the world's second-largest economy.
India' economy is now expected to grow 7.5 percent this year and next, according to the International Monetary Fund. Its current account deficit remained under control at 1.3 percent of gross domestic product in the quarter to December, the most recent figure available.
India's exports account for just 1.7 percent of world trade, compared with nearly 12 percent of China. Prime Minister Narendra Modi aims to take a 5 percent share of global trade by 2020. Analysts doubt that will happen.
"With progress on the reforms needed to support a vibrant export sector still slow, the government's ambition to nearly double export values by 2020/21 is looking increasingly unrealistic," said Shilan Shah, India economist of Capital Economics.
Exporters said Modi administration's delay in signing free trade pacts, such as with the European Union, and policies that seek to protect domestic industries have hurt India's export prospects, though they still remain optimistic.
© Thomson Reuters 2016
(This story has not been edited by NDTV staff and is auto-generated from a syndicated feed.)