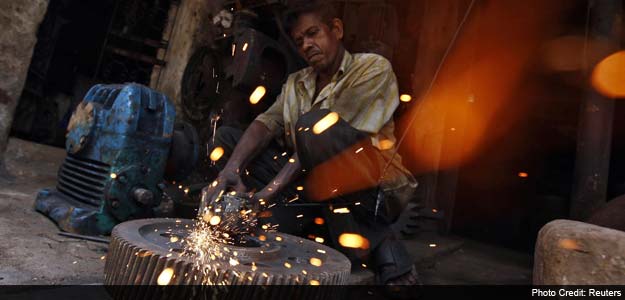 New Delhi: Manufacturing and services sectors in India expanded at a faster pace than China in November, even as emerging market output slipped for the second consecutive month to a six-month low, a HSBC survey said on Friday.
The HSBC Emerging Markets Index (EMI), a monthly indicator derived from PMI surveys, slipped for the second month running to 51.2, signalling the weakest rate of expansion since May.
The EMI remained well below its long-run trend level of 53.7 as both manufacturers and service providers in emerging markets registered slower and identical rates of output expansion in November, HSBC said.
"2014 looks set to record the lowest annual average for the Index since its inception in November 2005," the HSBC report added.
Data for the four largest emerging economies showed contrasting activity trends in November. China registered growth for the seventh month running, while India posted the fastest growth since June.
Russia and Brazil, however, registered sharper rates of decline during November.
During November, the HSBC composite index for India, which maps both manufacturing and services, stood at 53.6, whereas for China it was 51.1, Brazil (48.1) and Russia (47.6).
An index measure of above 50 indicates expansion.
"Downturns in Russia and Brazil are intensifying to worrying extents, and China's economic growth rate continues to slow. Only India saw an improvement in November," Markit chief economist Chris Williamson said.
Meanwhile, the outlook for global emerging markets also deteriorated during November. The HSBC Emerging Markets Future Output Index, which tracks firms' expectations for activity in 12 months' time, fell to a new record-low.
All four of the largest emerging economies posted weaker sentiment for next 12 months, most notably Russia and Brazil, while China posted the lowest output expectations.