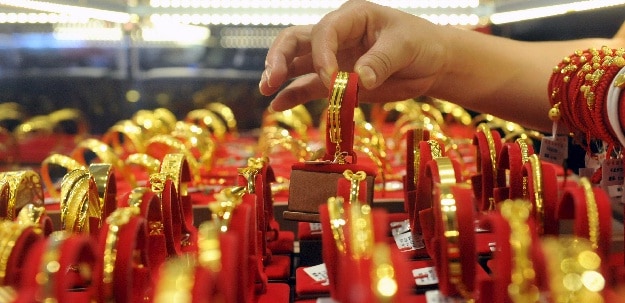 Panaji
: India's gold demand might reach 950 tonnes this year as lower prices spur buying during the peak festival season and for weddings, said Valcambi, the world's biggest gold refiner.
Stronger demand in the world's second-biggest gold consumer could support global prices, which rebounded this week after hitting a 5-1/2 year low under $1,100 an ounce in July.
Valcambi chief executive Michael Mesaric said gold demand would be strong this year. "It could be between 900 tonnes to 950 tonnes," he said on the sidelines of the International Gold Convention in the city of Panaji in Goa state.
Demand for gold jewellery is usually robust in the final quarter as India celebrates festivals such as Diwali and Dussehra, when buying the metal is considered auspicious.
"All this should boost demand," said Alistair Hewitt, the World Gold Council's (WGC) market intelligence director.
In the first half of 2015, Indian demand fell 7 per cent from a year earlier to 346.2 tonnes. But gold prices in India have risen more than 11 per cent since hitting their lowest in four years in late July.
Industry officials say Indian demand is determined more by perceptions about future price movements.
"If consumers feel prices will go up, then they will buy during the festive season," said Rajan Venkatesh, managing director, India bullion, ScotiaMocatta, part of the Bank of Nova Scotia.
He expects Indian gold imports of between 850 tonnes and 900 tonnes in 2015, compared with 891.5 tonnes in 2014.
Another factor affecting gold buying will be the June-September monsoon rains. While some parts of the country had good rainfall the season is expected to be deficient overall.
Earlier this month, the India Meteorological Department (IMD) kept its forecast that rains would be 88 per cent of the long-run average as a strengthening El Nino weather pattern was likely to trim rainfall in August-September to 84 percent, raising fears of the first drought in six years.
"If monsoon remains weak, then it will be a big negative for gold. More than 60 per cent of demand comes from rural India," Mr Venkatesh said.
© Thomson Reuters 2015