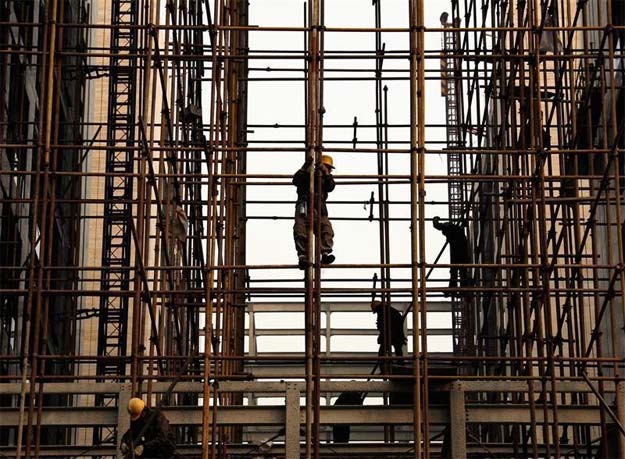 India's economic growth likely picked up slightly in the July-September quarter as improved manufacturing activity steered it from a four-year low in the previous three months, a Reuters poll showed.
The consensus of 40 economists showed gross domestic product expanded 4.6 per cent year-on-year in the last quarter, better than the 4.4 per cent in the previous three months, which was the lowest since the global financial crisis.
However, it would still be a far cry from 8 per cent, which is the growth target according to the government's 12th Plan (2012-17).
The government will release the data on Friday.

Any improvement would be welcome news for the government as a string of opinion polls forecast a poor performance for the ruling party in general elections which must be held by next May.

Economic growth virtually halved in two years to 5 per cent in the last fiscal year - the lowest level in a decade - and most economists surveyed by Reuters last month expect 2013-14 to be worse.

"It is only a marginal improvement with much of the support from a slight recovery in manufacturing sector," said Upasna Bhardwaj, an economist at ING Vysya Bank.

A moderate recovery in Indian factories and exports were probably the main drivers for an increase in overall growth in the quarter through September. Annual industrial output picked up 2 per cent in September, driven by an uptick in export and domestic orders.

Stronger global demand for India's exports also led to an increase in production, with exports growing 11.15 per cent annually in September.

Also, a good monsoon should have boosted rural income and perked up flagging consumer demand.

However, a dearth of investment lies at the heart of India's economic malaise.


Little improvement is expected ahead of the general election, with investors doubting whether Prime Minister Manmohan Singh's minority government can force through any bold actions between now and then.
Radhika Rao, an economist at DBS in Singapore, said euphoria surrounding Mr Singh's earlier reform plans had eased after they failed to materialise.
"It is not surprising that the private sector keeps expansion plans on ice," Ms Rao added.
Paris-based Organisation for Economic Co-operation and Development (OECD) expects marginal improvement in India's growth in the current financial year with its GDP at market price projected to expand by 3.4 per cent from 3.3 per cent in the previous fiscal.
Industry body Assocham, however seems optimistic about growth during the second quarter pegging it 5.4 per cent.
With wholesale price inflation moving back above the Reserve Bank of India's perceived comfort level of 5 per cent and consumer inflation quickening to more than 10 per cent, there is little expectation the central bank will act to ease policy boost growth.
RBI chief Raghuram Rajan has hiked interest rates twice in as many months since September, tackling rising prices head on.
(With inputs from Reuters)