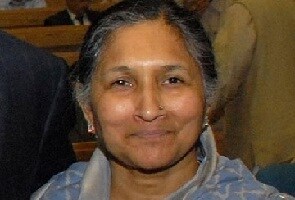 Singapore
: Four women feature in this year's Forbes list of 100 richest Indians including OP Jindal group chairperson Savitri Jindal and USV Pharma chairperson Leena Tewari.
Vinod Gupta, wife of Havells founder Qimat Rai Gupta, and Indu Jain of Bennett, Coleman & Co are the other two women in the list.
The four women have a collective wealth of $9.2 billion (Rs 60,720 crore at 1 dollar = 66 rupees) and account for nearly 3 per cent of the total net worth of all in the coveted list whose collective wealth amounts to $345 billion (Rs 22.77 lakh crore).
Ms Jindal has retained the tag of being the richest woman in India with a net worth of $3.8 billion (Rs 25,080 crore), according to the annual India rich list compiled by business magazine Forbes.
"After recovering last year, Savitri Jindal's O P Jindal group, which she chairs, saw its fortunes decline, mostly from a sharp fall in shares of Jindal Steel & Power, run by younger son Naveen. The company shut down operations at its Australian mine, citing mounting losses," Forbes said.
Ms Jindal was ranked 23rd on the list, which was topped by Mukesh Ambani for the ninth year in a row with a net worth of $18.9 billion (Rs 1.25 lakh crore).
Among the four women on the list, Ms Jindal was followed by newcomer Leena Tewari who chairs privately held generics maker USV Pharma, ranked 54th on the list.
On USV Pharma, Forbes said, "The firm has its roots in a small venture started by her grandfather, Vithal Balkrishna Gandhi, a noted social reformer and politician, to import medicines. It expanded into manufacturing in a joint venture with an American company in 1961."
Indu Jain of Bennett, Coleman & Co was ranked 57th on the list with a net worth of $1.9 billion (Rs 12,540 crore).
Vinod Gupta, wife of Qimat Rai Gupta, who died in November 2014, appears on the list after inheriting her husband's shares in electrical fittings maker Havells India, though she doesn't hold an executive or board position. She was ranked 74th on the list.
"Her husband founded the company in 1971 as an electrical trading business in Delhi. The $1.4 billion (revenues) Havells, which makes cables, fans and wires, is run by son Anil, the youngest of her 3 children. Fortune includes stake held by brother and nephew," Forbes said.
Get Breaking news, live coverage, and Latest News from India and around the world on NDTV.com. Catch all the Live TV action on NDTV 24x7 and NDTV India. Like us on Facebook or follow us on Twitter and Instagram for latest news and live news updates.