IRCTC
, the e-ticketing arm of Indian Railways, has clarified that the existing facility of booking six e-tickets (without Aadhaar) in a month is continuing. To book more tickets, the user's IRCTC account has to be linked with Aadhaar account. Users can avail the facility of booking up to 12 tickets in a month by linking Aadhaar, says IRCTC's website. "Now users are allowed to book upto 12 tickets in a month, if users get themselves verified through their Aadhaar number along with at least one passenger also being verified through Aadhaar," IRCTC said in a document.
Book Upto 12 tickets in a month online by linking Aadhaar.https://t.co/2aINzba9Ml

— Ministry of Railways (@RailMinIndia) November 3, 2017

How To Link Your IRCTC Account With Aadhaar Number
The process for linking Aadhaar with your IRCTC account for booking train tickets is simple. It can be done online.
Go to IRCTC e-ticketing website and after you log in with your id and password, go to My Profile tab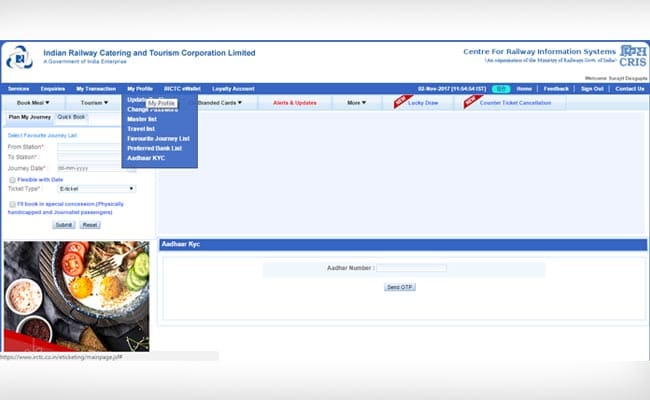 (After you log in, the 'My Profile' section can be found at the top right portion of the IRCTC website)
From that select Aadhaar KYC
Then you will taken to a page where you will be asked to enter your Aadhaar number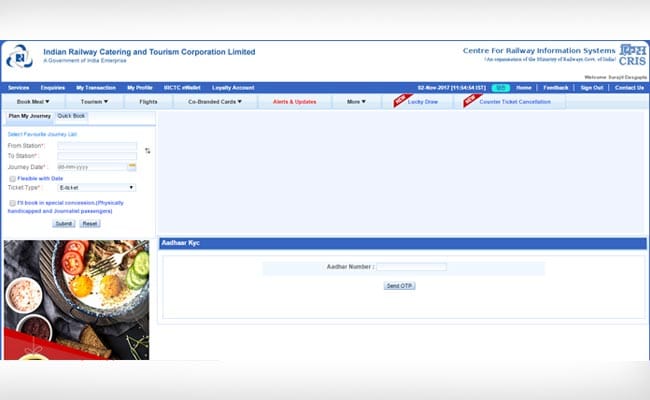 (Enter your Aadhaar number and hit the 'Send OTP' button)
Enter the Aadhaar number and you will receive the Aadhaar OTP for verification.
After you enter the OTP, your IRCTC will be Aadhaar-verified.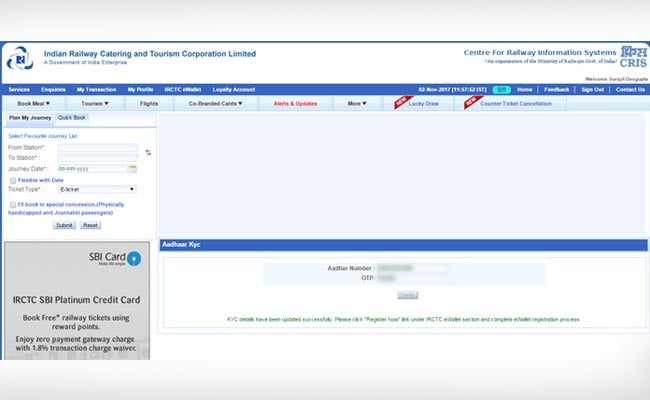 (Enter the OTP received on your registered mobile number and proceed by clicking 'Verify')
You will receive a message that "KYC details have been updated successfully".
IRCTC says At least one passenger on the ticket being booked, beyond 6 tickets in a month, should also be Aadhaar verified.
Users are required to verify the probable passengers through their respective Aadhaar
number and store the verified passengers in passenger master list. This should be done
before starting the ticket booking process, beyond 6 tickets in a month, says IRCTC.
User can add Aadhaar verified passenger from master list at the time of booking to book
additional tickets up to 12 tickets in a month, IRCTC adds.
IRCTC has shared a document
for users who want to book between 6-12 tickets a month.