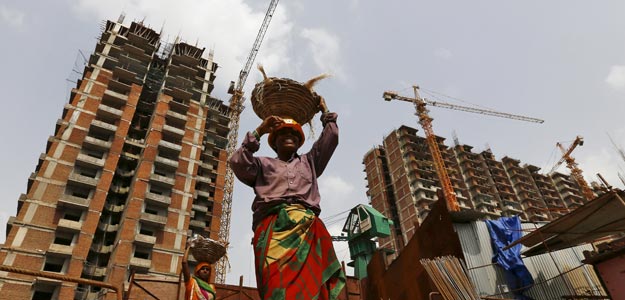 London: Indian economy will continue to see robust growth at 7.4 per cent in the next financial year even as only modest recovery is expected in advanced economies, Paris-based think tank OECD said today.

The Organisation for Economic Cooperation and Development (OECD) has raised India's growth forecast compared to 7.3 per cent expansion projected in November 2015.

"India will continue to grow robustly, by 7.4 per cent in 2016 and 7.3 per cent in 2017," the think tank said in its latest Interim Economic Outlook report.

In the case of India, 2016 refers to the fiscal starting from April this year.

Earlier this month, India's Central Statistics Office (CSO) said the country's economy would grow at a 5-year high of 7.6 per cent in the fiscal ending March, overtaking a slowing China.

Meanwhile, OECD said that with China expected to continue rebalancing its economy from manufacturing to services, growth is forecast at 6.5 per cent in 2016 and 6.2 per cent in 2017.

Brazil's economy is experiencing a deep recession and is expected to shrink by 4 per cent this year.

In emerging market economies, monetary support should be provided where possible, taking into account inflation developments and capital market responses, the think tank said.


As per OECD, the world economy is likely to expand "no faster in 2016 than in 2015, its slowest pace in five years".
Trade and investment are weak while sluggish demand is leading to low inflation, inadequate wage and employment growth, it added.
Achieving strong growth in the global economy remains elusive, with only a modest recovery in advanced economies and slower activity in emerging markets, OECD said.
This year, the global economy is anticipated to expand 3 per cent and accelerate to 3.3 per cent in 2017. This is a sharp cut from estimated growth of 3.3 per cent projected in November 2015. The euro area is projected to grow at a 1.4 per cent this year.
OECD has also called for a stronger policy response, changing the policy mix to confront the current weak growth more effectively.
"Sole reliance on monetary policy has proven insufficient to boost demand and produce satisfactory growth, while fiscal policy is contractionary in several major economies and structural reform momentum has slowed," it noted.
(This story has not been edited by NDTV staff and is auto-generated from a syndicated feed.)