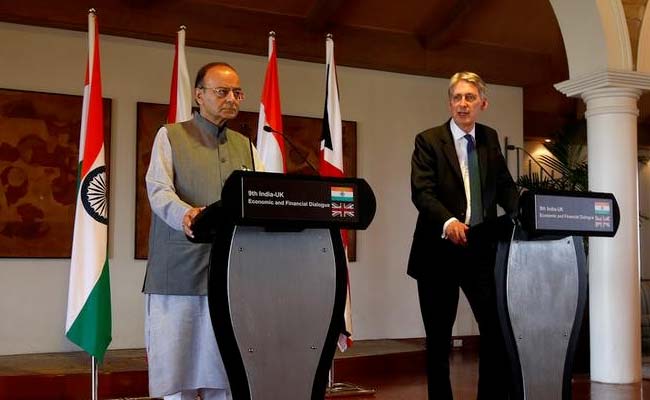 New Delhi:
British Finance Minister Philip Hammond is leading a big and important trade mission to India with a message to promote ''Make in India'' but ''Finance in UK''. Mr Hammond met with Union Finance Minister Arun Jaitley in New Delhi on Tuesday as UK looks to secure future business ties with India and others post Brexit.
The two nations agreed on a green growth equity fund designed to finance India's energy needs, whereby both India and the UK will be making contributions of about 120 million pounds each.
Both Mr Hammond and Mr Jaitley spoke of their nations' trade outlook post-Brexit, with Mr Hammond talking of a chance for UK to "rebuild our relationship with our partners and allies around the world".
Arun Jaitley, the Finance Minister said "We have established the national infrastructure and investment fund and one of the first major steps in that fund has been taken. There's going to be a sub-fund with the UK and a green growth equity fund, where both are going to be making a contribution of about 120 million pounds ($149.40 million) and this will be financing the energy needs in India."
Philip Hammond, UK Chancellor added that the relationship between India and UK was a ''mature'' one and between ''equals''
Arun Jaitley, Finance Minister of India further added that ''India is open to all arrangements which are in mutual interest for expanding trade.''
Chancellor of the Exchequer Mr Hammond will also visit Mumbai along with governor of the Bank of England Mark Carney and UK government ministers, including commercial secretary Baroness Neville-Rolfe and international trade minister Mark Garnier.