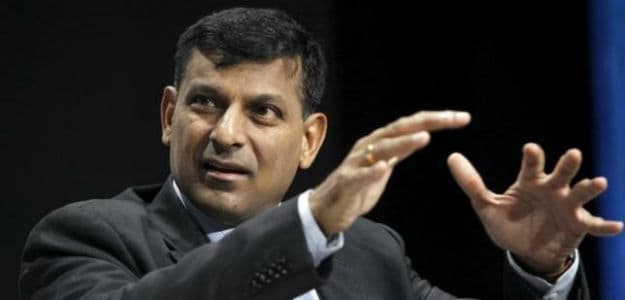 Mumbai: RBI Governor Raghuram Rajan has said India should restrain itself from being "too ambitious" at a time when the world is full of uncertainties and instead focus on sensible policies to ensure a sustainable economic growth.

"Given great uncertainty about outlook and policies of others in these times, a country like India should try to take sensible measures without getting too ambitious, as we have done so far," Rajan said, delivering the Mahtab Memorial Lecture in Bhubaneswar on Saturday evening.

"This will serve as a sound basis for strong and sustainable Indian growth as the world economy picks up," Rajan, whose remarks comparing the Indian economy with an one-eyed king in a blind world led to a controversy, added.

The Indian government has been working hard to fasten the GDP growth and aspiring to take it to the double-digit mark from the current 7.5 per cent in the medium term.

It has, however, adhered to key targets like the fiscal deficit number and also made inflation-targeting a key objective for the central bank.

Rajan said the world is growing "extremely slowly", with the factors differing from one country to other and termed notions of a de-coupling of growth between industrial countries and emerging markets as "illusory".

"Easy and unconventional monetary policy in industrial countries could increasingly be a part of the problem," the academic-turned-central banker said and reiterated this creates problems around capital flows for emerging markets.

He called central banks around the world to "start thinking more internationally" and stressed on the need to "start discussing new rules of the monetary policy game in the international setting."

As such a goal will take years, an emerging country like India should focus on macro-stabilisation, building buffers and reducing vulnerabilities, Rajan said.

"Good policy is the first line of defence - including our focus on controlling fiscal deficits, reforms like the Bankruptcy Code and Aadhaar, and our steady fight against inflation," he added.

The country has also taken other additional measures like control inflows, intervening in the foreign exchange market as a macro prudential measure to reduce volatility, and maintaining sufficient foreign exchange reserves to be able to withstand a sudden stop in capital inflows, Rajan said.

Welcoming the passage of the bankruptcy code by Parliament, Rajan on Saturday said, "Progress on resolving distress quickly, such as, enactment of the new bankruptcy code, would help assure a clean exit to firms that failed, and a redeployment of their resources in more useful ways."


In his address focused on ways to strengthen the free enterprise in the country, Rajan said the country has come a long way in encouraging free enterprise, but underlined the issue of inclusion by saying, "aam aadmi attaches no value to free enterprise if he cannot participate by getting a job or starting a firm".
Rajan said while the government has "delivered on prescribing moderate and predictable taxes generally", but it is necessary to "reduce any remaining uncertainty about tax demands", according to a RBI press release issued last evening said.
The Rajya Sabha passed the Insolvency and Bankruptcy Code, 2016 on May 13, a week after the lower house Lok Sabha had cleared the bill, which was termed as the "biggest economic reform" after proposed GST by the Finance Ministry.
The Code has enabling provisions to deal with cross border insolvency and an Insolvency and Bankruptcy Board of India would be established to exercise regulatory oversight over insolvency professionals, insolvency professional agencies and information utilities.
"Some business ventures will always fail, but they will be handled rapidly and swiftly. Entrepreneurs and lenders will be able to move on, instead of being bogged down with decisions taken in the past," it added.
Batting for small businesses, Rajan said infirmities which hurt new firms include infrastructure and logistics, and also difficulties in land acquisition.
The academic-turned-central banker said for a free enterprise to flourish, we need a level playing filed with free entry and exit, access to input and output markets and protection of property rights.
Broadening access to capabilities and a basic safety net which should include unemployment insurance, basic health care and old age pensions is also necessary, he said.
"If insurance is not explicitly provided up front, it will be implicit in a democratic society," Rajan said, adding that safety net can also encourage people to take risks which they would shy away from otherwise.
(This story has not been edited by NDTV staff and is auto-generated from a syndicated feed.)